Mitsubishi Outlander: Wireless Control Module (WCM)
General Information
The wireless control module (WCM) is a system that integrates the keyless entry function, with which remote operation (opening/closing of all doors and the liftgate and operation of warning function that warns a person who intends to damage the vehicle *), can be performed by operating the lock/unlock button or panic button on the ignition key (transmitter).
Also, WCM incorporates the immobilizer function, which prohibits the starting of engine using an unauthorized key, and the tire pressure monitoring system (TPMS), which issues a warning to a driver by illuminating or flashing the warning light if an abnormality to the tire pressure is detected. WCM has the following features:
The ignition key has an indicator light that enables the driver to check if the signal is transmitted correctly or if the battery in the key is discharged.
Each vehicle is provided with two ignition keys, and up to eight ignition keys can be registered.
Settings of the keyless entry function can be adjusted using a customization function.
NOTE: *: Horn sounds, and headlights and taillights flash.
CONSTRUCTION DIAGRAM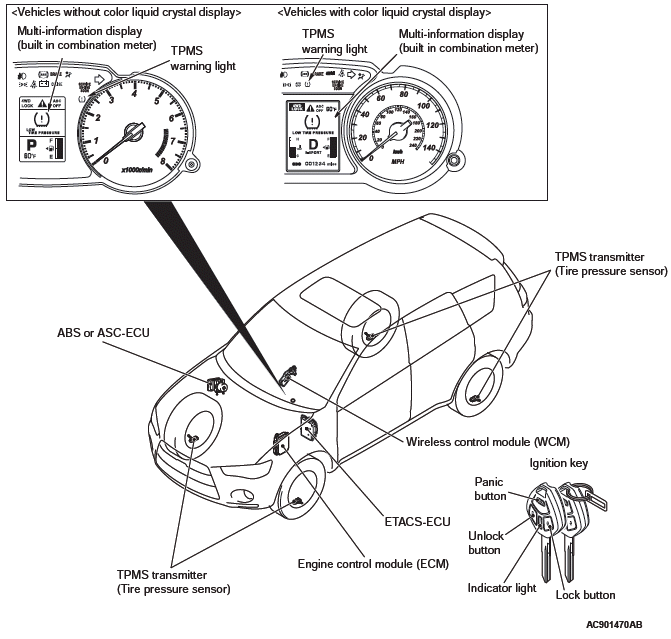 Main components and functions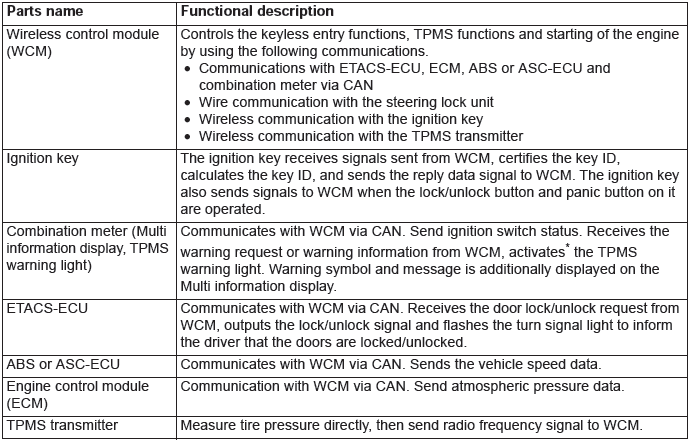 NOTE:
*: Illuminates for tire pressure warning.
*: Flashes for about 1 minute and then continuously illuminated for TPMS malfunction warning.
System configuration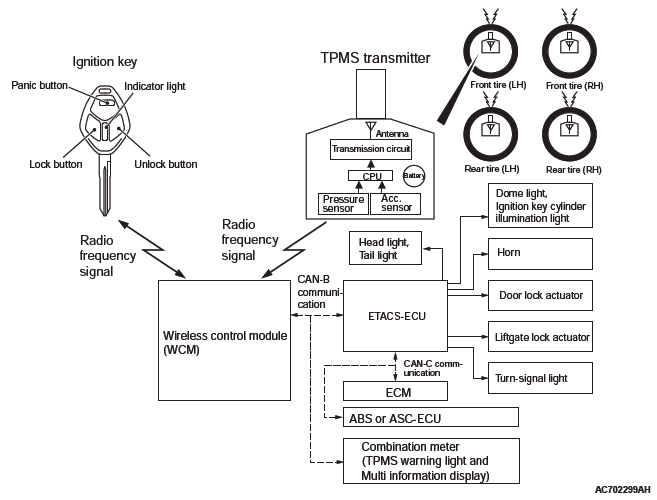 NOTE: In case of replacement of WCM, all keyless ID, key ID and tire pressure sensor ID should be re-registered using scan tool MB991958 (M.U.T.-III sub-assembly).
Special Tools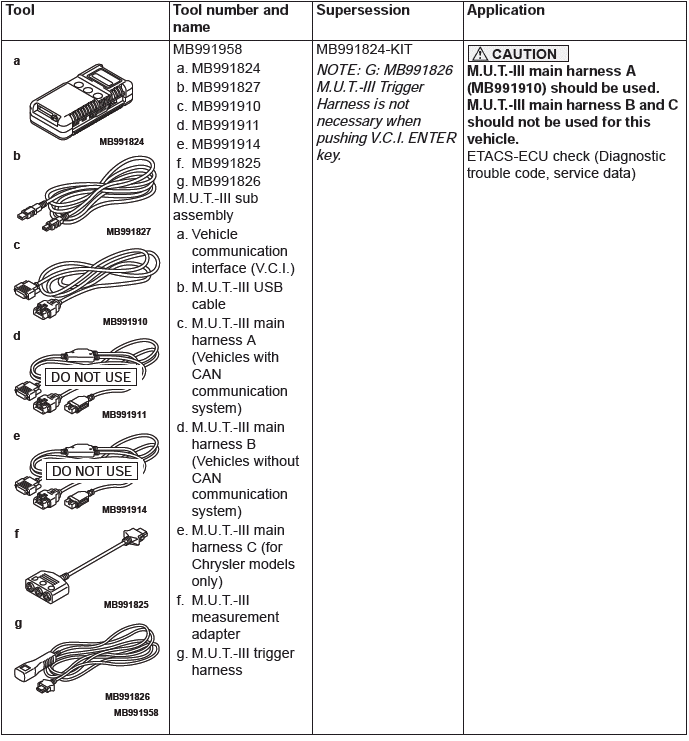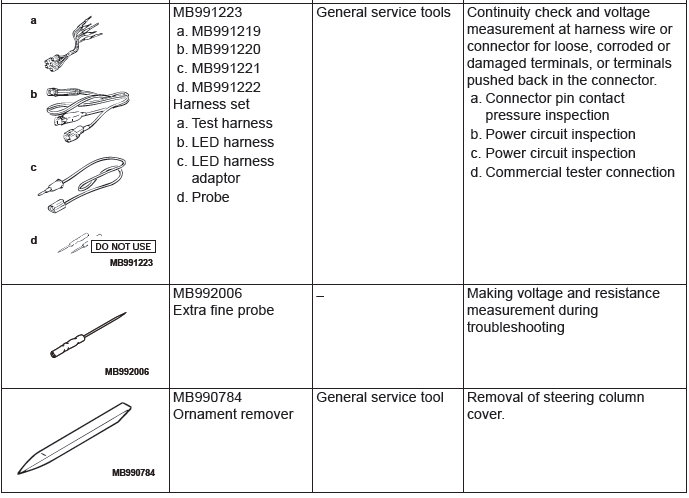 READ NEXT:
STANDARD FLOW OF DIAGNOSTIC TROUBLESHOOTING Refer to GROUP 00 − How to Use Troubleshooting/Inspection Service Points, Contents of Troubleshooting. DIAGNOSTIC FUNCTION HOW TO CONNECT THE SCAN TO
DTC B1731: Engine control module communication timeout CAUTION When the DTC B1731 is set, be sure to diagnose the CAN bus line. When replacing the ECU, always check that the communication circuit
DTC B2204: Coding data mismatch CAUTION When DTC B2204 is set, be sure to diagnose the CAN bus line. When replacing the ECU, always check that the communication circuit is normal. DTC SET CONDIT
SEE MORE:
Fender REMOVAL AND INSTALLATION Pre-removal and post-installation operation Splash shield front removal and installation Front bumper side bracket removal and installation Headlight assembly removal and installation Side turn-signal lamp removal and installation Front deck garnish removal a
REMOVAL AND INSTALLATION Removal steps Crankshaft bearing cap bolt Crankshaft bearing cap Crankshaft bearing lower Crankshaft Crankshaft bearing upper Thrust bearing Crankshaft sensing ring Cylinder block REMOVAL SERVICE POINT CRANKSHAFT REMOVAL When temporarily placing the crankshaft wit
© 2010-2023 Copyright www.mioutlander.com