Mitsubishi Outlander: Making a flat seat
By removing the head restraints and fully reclining the seatbacks of the seats, one large flat seat is achieved.
WARNING:
● Never drive while there are occupants sitting on the flat seat. This can be extremely dangerous.
CAUTION:
● To make a flat seat, stop the vehicle in a safe place.
● Make sure the seat is adjusted by an adult or with adult supervision for correct and safe operation.
● When sliding the seat, be sure not to catch your hand or leg.
● Do not walk around on top of the seats after they have been laid flat.
● To ensure the seats are locked securely, attempt to move them back and forth.
● Do not jump on, or impact the seatbacks heavily.
● To raise the seatback, raise it slowly while supporting it with your hands. Never let a child perform this operation. Doing so could result in an accident.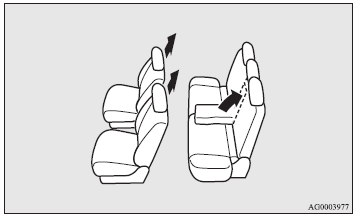 1. Remove the head restraints from the front seats, raise the armrest and remove the cargo area cover (if so equipped) (refer to "Head restraints" and "Cargo area cover").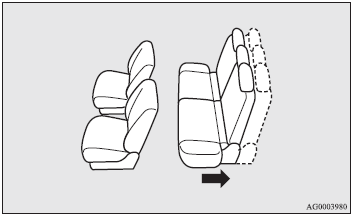 2. Move the second seat fully to the rear (refer to "To adjust forward or backward").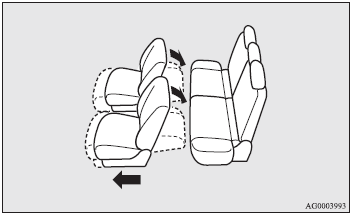 3. Slide the front seats fully forward, then recline the seatbacks backwards to achieve a flat surface (refer to "To adjust forward or backward" and "To recline the seatback").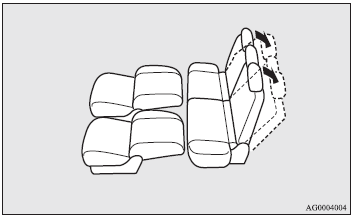 4. Recline the seatbacks of the second seat backwards (refer to "To recline the seatback").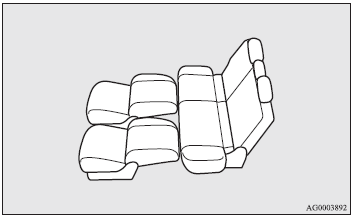 5. The flat seat configuration is now complete. To return the seats to the normal position, reverse the above procedure.
READ NEXT:
To protect you and your passengers in the event of an accident, it is most important that the seat belts be worn correctly While drive. The front seat belts have a pre-tensioner system. These belts
WARNING: ● Seat belts work for everyone, including pregnant women. Pregnant women should use the available seat belts. This will reduce the likelihood of injury to both the woman and the un
The driver's seat and front passenger's seat each have a seat belt equipped with a pre-tensioner system. Pre-tensioner system The pre-tensioner system will retract their respective seat belts
SEE MORE:
INTRODUCTION TO POWER STEERING DIAGNOSIS Hydraulic power steering is used for all vehicles. Faults in the power steering can include excessive play of the steering wheel, difficult steering wheel operation, noise, vibration, and oil leaks, etc. Possible causes of these faults can include defects in
DTC P1637: Malfunction of Memory Backup Memory backup system circuit DIAGNOSTIC FUNCTION TCM checks the consistency between EEPROM and the backup memory. DESCRIPTIONS OF MONITOR METHODS When the ignition switch is turned to the "ON" position, TCM determines that the writing to the EEPROM area h
© 2010-2023 Copyright www.mioutlander.com