Mitsubishi Outlander: Second seat
When a person is sitting in the second seat, raise the head restraints to height at which it lock in position. Refer to "Head restraints".
NOTE:
● It is possible to adjust each side of the second seats forward and backward independently of the other side, and to adjust the seatback angle independently on each side.
To adjust forward or backward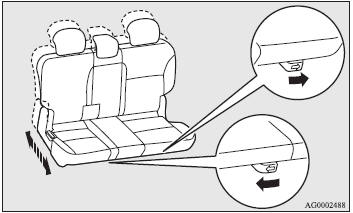 Pull the seat adjustment lever and lightly push the seat forward or backward to the desired position. Release the adjustment lever. The seat will lock in place.
WARNING:
● To make sure that the seat is securely locked in place after adjustment, try to move it forward and backward without using the adjustment lever.
To recline the seatback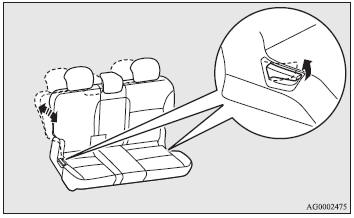 To adjust the seatback, lean forward slightly, slowly pull up the lever, then lean backward to the desired position and release the lever. The seatback will lock in place.
WARNING:
● To reduce the risk of serious or life-threatening injuries in an accident or sudden stop, make sure that not only the driver's seat seatback but also all the other seatbacks are in an upright position while driving.
● When a person is sitting in the middle seating position of the second seat, the two sides of the second seat must have the same forward/backward position and the same seatback angle. Otherwise, the seat belt for the middle seating position may not be adequately effective in the event of hard braking or a collision.
CAUTION:
● A spring is loaded in the reclining mechanism of the seatback, so when operating the lock lever sit in a position close to the seatback or support the seatback with your hand.
Armrest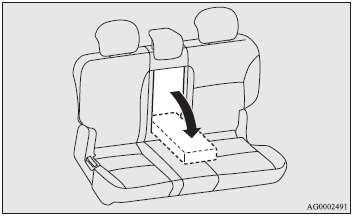 To use the armrest, fold it down.
To return to the original position, push it backward flush with the seat.
NOTE:
● Do not climb or sit on the armrest.
Doing so could damage the armrest.
Accessing the underfloor-stowable third seat (7 persons)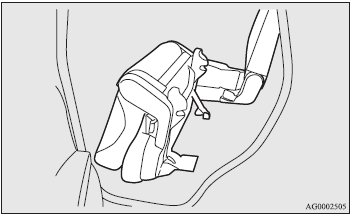 The passenger gets on or off the third seat after collapsing the second seat. Refer to "To collapse the second seat".
READ NEXT:
To fold out the underfloor-stowable third seat The third seat is stowed under the floor. Use the seat when extra people ride in your vehicle. When not in use, stow the seat under the floor and use
WARNING: ● Driving without the head restraints in place can cause you and your passengers serious injury or death in an accident. To reduce the risk of injury in an accident, always make su
WARNING: ● When making a luggage area, never arrange the seats while the vehicle is being driven or is on an incline. The seats could move unexpectedly or more than required and cause a ser
SEE MORE:
DIAGNOSTIC TROUBLESHOOTING FLOW INTRODUCTION TO A/T DIAGNOSIS When the A/T is failed, have an interview with the user to gather precise information on the failure status. After that, perform on-board test to check if the failure is reproduced, and then start repair work. If the repair work is sta
Side Air Dam REMOVAL AND INSTALLATION Removal Side air dam REMOVAL SERVICE POINT SIDE AIR DAM REMOVAL Gently lift and remove the side air dam. If there is any double- sided tape remaining on the side air dam, remove according to the following instructions. Remove double-sided tape remaining on
© 2010-2023 Copyright www.mioutlander.com