Mitsubishi Outlander: Tools and jack
Storage
The tools and jack are stowed on the right side of the luggage area.
The storage location of the tools and jack should be remembered in case of an emergency.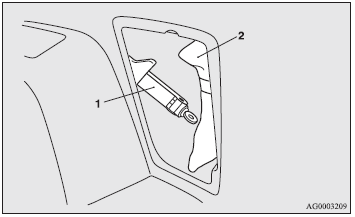 1- Jack.
2- Tools.
Tools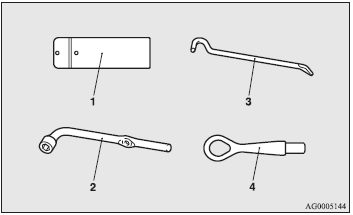 1- Tool case.
2- Wheel nut wrench.
3- Jack bar.
4- Towing hook.
Jack
To remove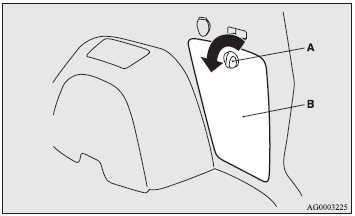 1. Turn the knob (A) anticlockwise and remove the lid (B).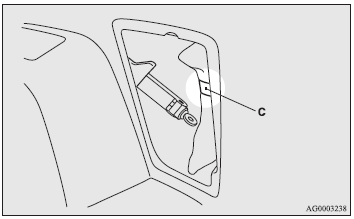 2. Remove the fastening band (C) and remove the tools.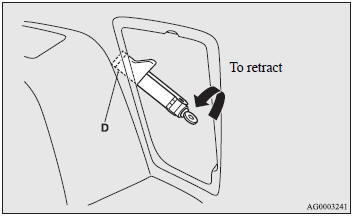 3. Retract the jack and remove it from its installation fitting (D).
To store
1. Retract the jack, then return it to its original position.
2. Extend the jack and firmly secure it.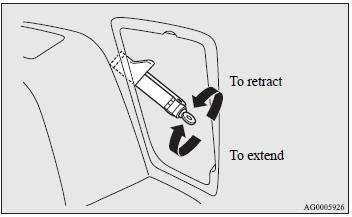 3. Return the tools to the tool bag, return it to its original position, and firmly fasten with the fastening band.
4. Install the lid and turn the knob clockwise.
READ NEXT:
Before changing a tyre, first stop your vehicle in a safe, flat location. 1. Park the vehicle on level and stable ground, free of loose pebbles, etc.. 2. Set the parking brake firmly. 3. Turn the i
If your vehicle needs to be towed If you need to tow your vehicle, we recommend that you contact a MITSUBISHI MOTORS Authorised Service Point or tow truck company. In the following cases, transp
On a flooded road ● Avoid flooded roads. Water could enter the brake discs, resulting in temporarily ineffective brakes. In such cases, lightly depress the brake pedal to see if the brakes
SEE MORE:
DTC P1637: Malfunction of Memory Backup Memory backup system circuit DIAGNOSTIC FUNCTION TCM checks the consistency between EEPROM and the backup memory. DESCRIPTIONS OF MONITOR METHODS When the ignition switch is turned to the "ON" position, TCM determines that the writing to the EEPROM area h
By using the cruise control system, the driver can drive at preferred speeds in a range of approximately 40 to 160 km/h (25 to 100 mph) without depressing the accelerator pedal. For this cruise control system, in conjunction with the electronic throttle valve control system, the engine control modu
© 2010-2023 Copyright www.mioutlander.com