Mitsubishi Outlander: Doors
CAUTION:
● Make sure the doors are closed: driving with doors not completely closed is dangerous.
● Never leave children in the vehicle unattended.
● Be careful not to lock the doors while the keys is inside the vehicle.
NOTE:
● When the driver's door is open, neither the key nor the lock knob can be used to lock it.
To lock or unlock with the key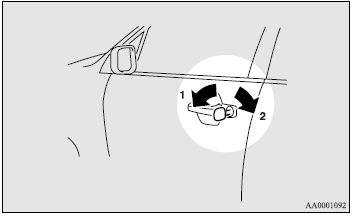 1- Lock.
2- Unlock.
NOTE:
● If the vehicle is equipped with the keyless operation system, the doors can be locked or unlocked with the emergency key. Refer to "Emergency keys".
To lock or unlock from inside the vehicle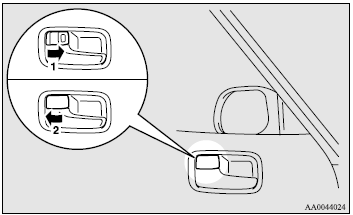 1- Lock.
2- Unlock.
Pull the inside door handle toward you to open the door.
NOTE:
● The driver's door can be opened without using the lock knob by pulling the inside door handle.
● In a vehicle that has a Dead Lock System, it is not possible to unlock the door by pushing the lock knob to the unlock side while the Dead Lock System is set (refer to "Dead Lock System").
To lock without using the key
Front passenger's door, Rear door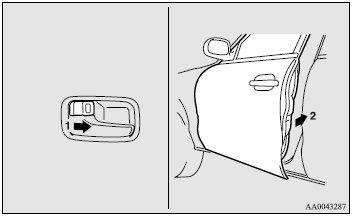 Set the inside lock knob (1) to the locked position and close the door (2).
NOTE:
● The driver's door cannot be locked using the inside lock knob while the driver's door is opened.
Ignition switch on reminder system
When the engine was started using the keyless operation function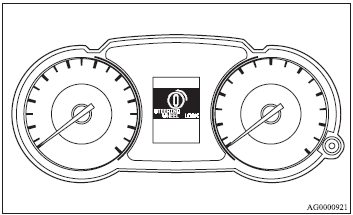 If the driver's door is opened with the ignition switch in any position other than "LOCK" (PUSH OFF), the ignition switch on reminder buzzer sounds intermittently to remind you to turn off the ignition switch.
In addition, "STEERING WHEEL LOCK" will be displayed on the information screen in the multi-information display.
READ NEXT:
Vehicles without the keyless entry system and vehicles without the keyless operation system Using the key on driver's door locks or unlocks driver's doors and the tailgate. 1- Lock. 2- Unlo
The Dead Lock System helps to prevent theft. When the keyless entry system has been used to lock all of the doors and the tailgate, the Dead Lock System makes it impossible to unlock the doors usi
1- Lock. 2- Unlock. Child protection helps prevent the rear doors from being opened accidentally from the inside. If the lever is set to the locked position, the rear doors cannot be opened usi
SEE MORE:
ENGINE COOLANT LEAK CHECK WARNING When pressure testing the cooling system, slowly release cooling system pressure to avoid getting burned by hot coolant. CAUTION Be sure to completely clean away any moisture from the places checked. When the tester is taken out, be careful not to spill any co
To check and refill engine oil The engine oil used has a significant effect on the engine's performance, service life and startability. Be sure to use oil of the recommended quality and appropriate viscosity. All engines consume a certain amount of oil during normal operation. Therefore,
© 2010-2023 Copyright www.mioutlander.com