Mitsubishi Outlander: Power steering fluid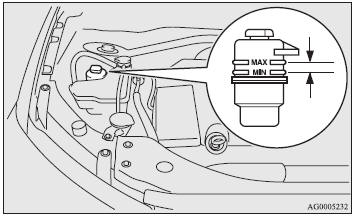 To check the fluid level
Check the fluid level in the reservoir while the engine is idling.
Check to make certain that the power steering fluid level is always between the "MAX" and "MIN" level markings on the fluid reservoir and refill the fluid, if necessary.
Recommended fluid
Use "ATF DEXRON III or DEXRON II".
READ NEXT:
The condition of the battery is very important for quick starting and to keep the vehicle's electrical system working properly. Regular inspection and care are especially important in cold weathe
WARNING: ● Driving with tyres that are worn or improperly inflated can result in a collision and serious or fatal injury. Tyre inflation pressures : Above 160 km/h (100 mph). Check the t
Break-in the parking brake linings whenever the brake performance of the parking brake is insufficient or whenever the parking brake linings and/or discs are replaced, in order to assure the best
SEE MORE:
The electronically controlled 4WD system is an 4-wheel drive system that allows one of three drive modes to be selected with a switch, in accordance with the driving conditions. The following drive modes are available. 4-wheel drive operation requires special driving skills. Carefully read
GENERAL INFORMATION This system is equipped with four <2.4L> or six <3.0L> ignition coils with built-in power transistors for each of the cylinders. Interruption of the primary current flowing in the primary side of an ignition coil generates a high voltage in the secondary side of igni
© 2010-2023 Copyright www.mioutlander.com