Mitsubishi Outlander: Vehicle labeling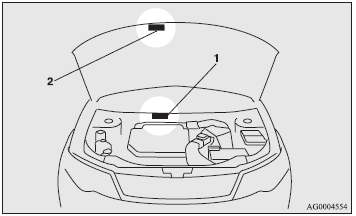 1-Vehicle identification number
The vehicle identification number is stamped on the bulkhead as shown in the illustration.
2-Vehicle information code plate
The vehicle information code plate is riveted as shown in the illustration.
The plate shows model code, engine model, transmission model and body colour code, etc.
Please use this number when ordering replacement parts.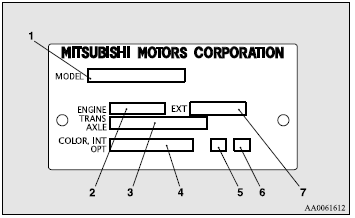 1- Model code.
2- Engine model code.
3- Transmission model code.
4- Body colour code.
5- Interior code.
6- Option code.
7- Exterior code.
Vehicle identification number plate (RHD vehicles only)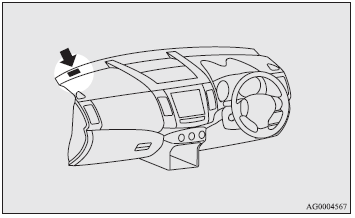 This is stamped on the number plate riveted to the left front corner of the instrument panel pad. It is visible from outside of the vehicle through the windscreen.
Engine number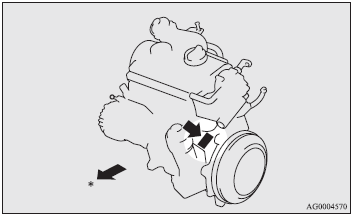 : Front of the vehicle.
The engine number is stamped on the engine cylinder block as shown in the illustration.
READ NEXT:
In case of trailer towing NOTE: ● Trailer specifications indicate the manufacturer's recommendation.
SEE MORE:
DTC P0741: Torque Converter Clutch System (Stuck Off), P0742 Torque Converter Clutch System (Stuck ON) DESCRIPTIONS OF MONITOR METHODS <P0741> When the input shaft speed sensor is normal, the engine speed signal is normal, and within the lock-up operation range, the slip speed of the tor
Automatic mode and manual mode is available for digital clock adjustment: Select the automatic mode or the manual mode by performing the following operations: 1. Press the PWR switch (A) to turn ON the audio system. 2. Enter the function setup mode by pressing the TUNE switch (B) for 2 second
© 2010-2023 Copyright www.mioutlander.com