Mitsubishi Outlander: Bonnet
To open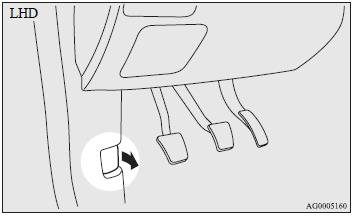 1. Pull the release lever toward you to unlock the bonnet.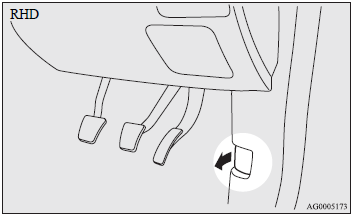 2. Raise the bonnet while pressing the safety lock.
NOTE:
● Only open the bonnet when the wipers are in the parked position. In any other position, the wipers could damage the paint or bonnet.
3. Support the bonnet by inserting the support bar in its slot.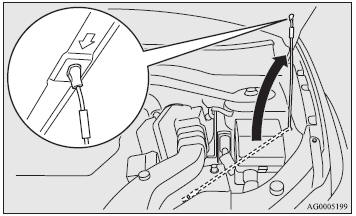 CAUTION:
● Note that the support bar may disengage the bonnet if the open bonnet is lifted by a strong wind.
● After inserting the support bar into the slot, make sure the bar supports the bonnet securely from faling down on to your head or body.
To close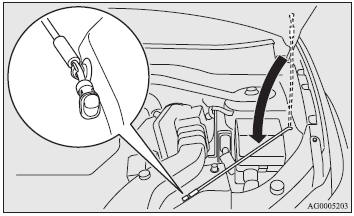 1. Unlatch the support bar and clip it in its holder.
2. Slowly lower the bonnet to a position 30 cm above the closed position, then let it drop.
3. Make sure the bonnet is securely locked by softly lifting the centre of the bonnet.
NOTE:
● If this does not close the bonnet, release it from a slightly higher position.
● Do not press down firmly on the bonnet as doing so could damage it.
CAUTION:
● Be careful that hands or fingers are not trapped when closing the bonnet.
READ NEXT:
To check and refill engine oil The engine oil used has a significant effect on the engine's performance, service life and startability. Be sure to use oil of the recommended quality and appropr
To check the coolant level A transparent coolant reserve tank (A) is located in the engine compartment. The coolant level in this tank should be kept between the "LOW" and "FULL" marks w
Open the washer fluid reservoir cap and check the level of washer fluid with the dipstick. If the level is low, replenish the container with washer fluid. NOTE: ● The washer fluid contain
SEE MORE:
REMOVAL AND INSTALLATION CAUTION The parts indicated by *1 should be temporarily tightened, and then fully tightened with the vehicle standing on the ground and the curb weight condition. The parts indicated by *2 are the bolts/nuts with friction coefficient stabilizer. In removal, ensure
Your vehicle has been designed primarily for use on pavement. But its unique 4-wheel drive system allows you to occasionally travel on unpaved roads, to campgrounds, picnic sites, and similar locations. Not only does this ensure better handling on dry, paved roads but also permits better tract
© 2010-2023 Copyright www.mioutlander.com