Mitsubishi Outlander: Digital clock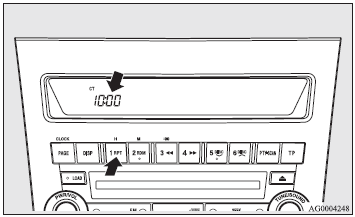 Automatic mode and manual mode is available for digital clock adjustment: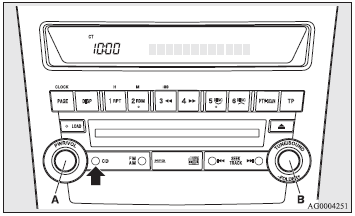 Select the automatic mode or the manual mode by performing the following operations:
1. Press the PWR switch (A) to turn ON the audio system.
2. Enter the function setup mode by pressing the TUNE switch (B) for 2 seconds or longer.

3. Press the TUNE switch (B) repeatedly to select the CT (Clock Time) mode.
The order is: AF → CT → REG → TP-S → Language of PTY display → SCV → PHONE → Function setup mode OFF (refer to "Function setup mode", 5-52).
NOTE:
● Although "PHONE" appear on the display, the PHONE function is inoperative.
4. Turn the TUNE switch (B) left and right and select either ON or OFF.
CT ON- Automatic mode.
CT OFF- Manual mode.
NOTE:
● After selecting a mode, you can leave the function setup mode by taking either of the following steps:
• Press the TUNE switch (B) for at least 2 seconds.
• Make no entry for 10 seconds.
Automatic mode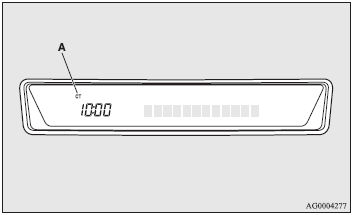 The automatic mode can set the local time automatically by using the signal from the local RDS stations. In this mode, CT (A) is shown in the display. Refer to "Radio data system (RDS)", 5-46.
Manual mode
The manual mode is also available in case the "Automatic mode" shows the incorrect time when the adjacent local RDS stations are located in a different time zone. Refer to "Radio data system (RDS)", 5-46.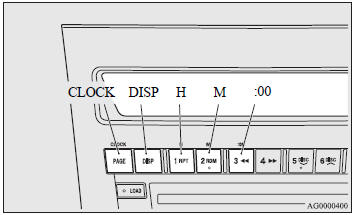 Set the time by pressing the various buttons as described below.
1. Keep the CLOCK button pressed until the time display flashes.
2. Press the appropriate buttons to adjust the time.
3. Once the time is set, press the "DISP" button, and the time display will stop flashing.
When a time adjustment has been made, the flashing stops automatically.
NOTE:
● If the battery cables are disconnected during repairs or for any other reason, reset the clock to the correct time after they are reconnected.
● The digital clock does not have a second display. When the "minute" display is adjusted and reset to zero, the clock begins at zero seconds for the selected minute.
"H" button - To adjust the hour.
"M" button - To adjust the minutes.
":00" button - To reset the minutes to zero.
10:01 - 10:29...... Changes to 10:00.
10:30 - 10:59...... Changes to 11:00.
READ NEXT:
The Hands-free Bluetooth® cellular phone interface system with voice recognition uses a wireless communication technology known as Bluetooth® to allow you to make hands-free calls in your vehicl
1- To eliminate front glare 2- To eliminate side glare. Card holder Cards can be slipped into the front (A) of the vanity mirror lid.
The vanity mirrors are located on the back of the sun visor.
SEE MORE:
BRAKE PEDAL INSPECTION CAUTION Do not apply grease or lubricant to the switch and the switch installation section to avoid malfunction of the switch. In addition, do not use gloves which have grease on them. BRAKE PEDAL HEIGHT CHECK 1. Turn up the floor carpet under the brake pedal. 2. Remove the s
REMOVAL AND INSTALLATION Removal steps Engine oil control valve (OCV) exhaust O-ring Engine oil control valve (OCV) intake O-ring Front camshaft bearing cap Oil feeding camshaft bearing cap Camshaft bearing cap Thrust camshaft bearing cap Bearing Camshaft intake Camshaft exhaust Bear
© 2010-2023 Copyright www.mioutlander.com