Mitsubishi Outlander: Parking brake
To park the vehicle, first bring in to a complete stop, fully engage the parking brake.
To apply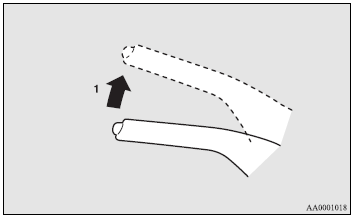 1- Pull the lever up without pushing the button at the end of hand grip.
To release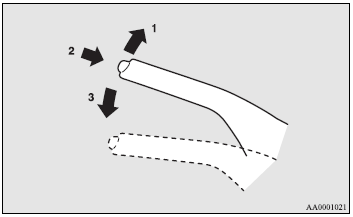 1- Pull the lever up slightly.
2- Push the button at the end of hand grip.
3- Push the lever downward.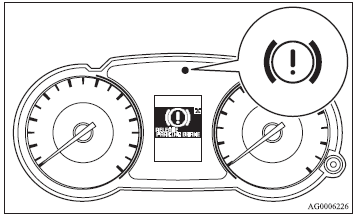 CAUTION:
● Before driving, be sure that the parking brake is fully released and brake warning lamp is off.
If you drive without the parking brake fully released, "RELEASE PARKING BRAKE" will appear on the information screen in the multi-information display.
If a vehicle is driven without releasing the parking brake, the brakes will be overheated, resulting in ineffective braking and possible brake failure.
READ NEXT:
To park the vehicle, fully engage the parking brake, and then move the gearshift lever to 1st or "R" (Reverse) position. Parking on a hill To prevent the vehicle from rolling, follow these pro
1. Release the tilt lock lever while holding the steering wheel up. 2. Adjust the steering wheel to the desired height. 3. Securely lock the steering wheel by pulling the tilt lock lever fully upwar
Adjust the rear-view mirror only after making any seat adjustments so you have a clear view to the rear of the vehicle. WARNING: ● Do not attempt to adjust the rear-view mirror while driving
SEE MORE:
REMOVAL AND INSTALLATION <2.4L ENGINE> Pre-removal Operation Engine Coolant Draining Engine Upper Cover Removal Air Cleaner Assembly Removal Post-installation Operation Air Cleaner Assembly Installation Engine Upper Cover Installation Engine Coolant Refilling Removal steps Hose
The electric windows can only be operated with the ignition switch in the "ON" position. WARNING: ● Before operating the electric window control, make sure that nothing is capable of being trapped (head, hand, finger, etc.). ● Never leave the vehicle without removing the key.
© 2010-2021 Copyright www.mioutlander.com