Mitsubishi Outlander: Running-in recommendations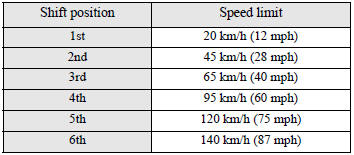 During the running-in period for the first 1,000 km (600 miles), it is advisable to drive your new vehicle using the following precautions as a guideline to aid long life as well as future economy and performance.
● Do not race the engine at high speeds.
● Avoid rapid starting, accelerating, braking and prolonged high-speed running.
● Keep to the running-in speed limit shown below.
Please note that the legal speed limits displayed must be adhered to.
● Do not exceed loading limits.
● Refrain from towing a trailer.
READ NEXT:
To park the vehicle, first bring in to a complete stop, fully engage the parking brake. To apply 1- Pull the lever up without pushing the button at the end of hand grip. To release 1- Pull t
To park the vehicle, fully engage the parking brake, and then move the gearshift lever to 1st or "R" (Reverse) position. Parking on a hill To prevent the vehicle from rolling, follow these pro
1. Release the tilt lock lever while holding the steering wheel up. 2. Adjust the steering wheel to the desired height. 3. Securely lock the steering wheel by pulling the tilt lock lever fully upwar
SEE MORE:
DTC B1731: Engine Control Module communication timeout CAUTION When the DTC B1731 is set, be sure to diagnose the CAN bus line. When replacing the ECU, always check that the communication circuit is normal. DTC SET CONDITION KOS-ECU checks that the Engine Control Module data has been received
Inspection Procedure 1: Cannot communicate with KOS-ECU using the scan tool. CAUTION Before replacing the ECU, ensure that the communication circuit is normal. TECHNICAL DESCRIPTION (COMMENT) If the scan tool cannot communicate with the KOS-ECU, the CAN bus lines may be defective. If the KOS-ECU do
© 2010-2023 Copyright www.mioutlander.com