Mitsubishi Outlander: Safe driving techniques
Driving safety and protection against injury cannot be fully ensured. However, we recommend that you pay extra attention to the following:
Seat belts
Before starting the vehicle, make sure that you and your passengers have fastened your seat belts.
Floor mats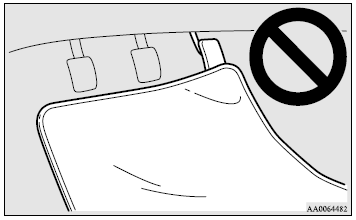 WARNING:
● Keep floor mats clear of the pedals by correctly laying floor mats that are suitable for the vehicle.
To prevent the floor mats from slipping out position, securely retain them using the hook etc.
Note that laying a floor mat over a pedal or laying one floor mat on top of another can obstruct pedal operation and lead to a serious accident.
Carrying children in the vehicle
● Never leave your vehicle unattended with the key and children inside the vehicle. Children may play with the driving controls and this could lead to an accident.
● Make sure that infants and small children are properly restrained in accordance with the laws and regulations, and for maximum protection in case of an accident.
● Prevent children from playing in the luggage compartment.
It is quite dangerous to allow them to play there while the vehicle is moving.
Loading luggage
When loading luggage, be careful not to load above the height of seats. This is dangerous not only because rearward vision will be obstructed, but also the luggage may be projected into the passenger compartment under hard braking.
READ NEXT:
During the running-in period for the first 1,000 km (600 miles), it is advisable to drive your new vehicle using the following precautions as a guideline to aid long life as well as future econo
To park the vehicle, first bring in to a complete stop, fully engage the parking brake. To apply 1- Pull the lever up without pushing the button at the end of hand grip. To release 1- Pull t
To park the vehicle, fully engage the parking brake, and then move the gearshift lever to 1st or "R" (Reverse) position. Parking on a hill To prevent the vehicle from rolling, follow these pro
SEE MORE:
Adhesive NOTE: The symbol in parentheses indicates a part number. Special Tool Instrument Panel Assembly REMOVAL AND INSTALLATION The following bolts and screws are used for installing the instrument panel: The bolts and screws are indicated by symbols in the illustrations in sections "REMOVAL AN
If the following is left on your vehicle, it may cause corrosion, discolouration and stains, wash the vehicle as soon as possible. ● Seawater, road deicing products. ● Soot and dust, iron powder from factories, chemical substance (acids, alkalis, coal-tar, etc.). ● Droppings
© 2010-2023 Copyright www.mioutlander.com