Mitsubishi Outlander: Tightening Torque, Lubrication and Maintenance
Tightening Torque
Each torque value in the table is a standard value for tightening under the following conditions.
1. Bolts, nuts and washers are all made of steel and plated with zinc.
2. The threads and bearing surface of bolts and nuts are all in dry condition.
The values in the table are not applicable:
If toothed washers are inserted.
If plastic parts are fastened.
If bolts are tightened to plastic or die-cast inserted nuts.
If self-tapping screws or self-locking nuts are used.
STANDARD BOLT AND NUT TIGHTENING TORQUE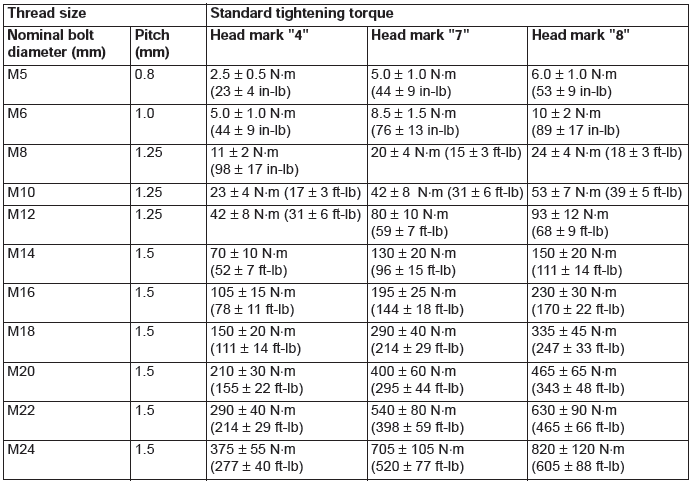 FLANGE BOLT AND NUT TIGHTENING TORQUE

Lubrication and Maintenance
Maintenance and lubrication service recommendations have been compiled to provide maximum protection for the vehicle owner's investment against all reasonable types of driving conditions. Since these conditions vary with the individual vehicle owner's driving habits, the area in which the vehicle is operated and the type of driving to which the vehicle is subjected, it is necessary to prescribe lubrication and maintenance service on a time frequency as well as mileage interval basis.
Oils, lubricants and greases are classified and graded according to standards recommended by the Society of Automotive Engineers (SAE), the American Petroleum Institute (API) and the National Lubricating Grease Institute (NLGI).
MAINTENANCE SCHEDULES
Information for service maintenance is provided in the "SCHEDULED MAINTENANCE TABLE". Three schedules are provided; one for "Required Maintenance" one for "General Maintenance" and one for "Severe Usage Service". The item numbers in "SCHEDULED MAINTENANCE TABLE" correspond to the section numbers in "MAINTENANCE SERVICE".
SEVERE SERVICE
Vehicles operating under severe service conditions will require more frequent service.
Component service information is included for vehicles operating under one or more of the following conditions:
1. Trailer towing or police, taxi or commercial type operation.
2. Operation of Vehicle
Short-trip operation at freezing temperature (engine not thoroughly warmed up)
More than 50% operation in heavy city traffic during hot weather above 32ºC (90ºF)
Extensive idling
Driving in sandy areas
Driving in salty areas
Driving in dusty conditions
Driving off-road
ENGINE OIL
CAUTION
Test results submitted to EPA have shown that laboratory animals develop skin cancer after prolonged contact with used engine oil. Accordingly, the potential exists for humans to develop a number of skin disorders, including cancer, from such exposure to used engine oil. Therefore, when changing engine oil, be careful not to touch it as much as possible. Protective clothing and gloves, that cannot be penetrated by oil, should be worn. The skin should be thoroughly washed with soap and water, or use waterless hand cleaner, to remove any used engine oil. Do not use gasoline, thinners, or solvents.
Either of the following engine oils should be used: Engine oils displaying ILSAC certification symbol or conforming to the API classification SL, SL/CF.
For further details, refer to "RECOMMENDED LUBRICANTS AND LUBRICANT CAPACITIES TABLE - LUBRICANT SELECTION".
LUBRICANTS AND GREASES
Semi-solid lubricants bear the NLGI designation and are further classified as grades 0, 1, 2, 3, etc.
Whenever "Chassis Lubricant" is specified, Multipurpose Grease, NLGI grade Number 2, should be used.
FUEL USAGE STATEMENT
CAUTION
Using leaded gasoline in this car will damage the catalytic converters and heated oxygen sensors, and affect the warranty coverage validity.
This vehicle must use unleaded gasoline only.
This vehicle has a fuel filler tube which is especially designed to accept only the smaller-diameter unleaded gasoline dispensing nozzle.
The 2.4L model is designed to operate on unleaded gasoline having a minimum octane rating of 87 [(MON + RON)/2], or 91 RON.
NOTE:
MON: Motor Octane Number
RON: Research Octane Number
GASOLINE CONTAINING ALCOHOL
Some gasoline sold at service stations contain alcohol although they may not be so identified.
Using fuels containing alcohol is not recommended unless the nature of the blend can be determined as being satisfactory.
Gasohol: A mixture of 10% ethanol (grain alcohol) and 90% unleaded gasoline may be used in your vehicle. If driveability problems are experienced as a result of using gasohol, it is recommended that the vehicle be operated on gasoline.
Methanol: Do not use gasoline containing methanol (wood alcohol). Using this type of alcohol can result in vehicle performance deterioration and damage critical parts in the fuel system components. Fuel system damage and performance problems resulting from the use of gasoline containing methanol may not be covered by the new vehicle warranty.
GASOLINE CONTAINING METHYL TERTIARY BUTYL ETHER (MTBE)
Unleaded gasoline containing 15% or less MTBE may be used in your vehicle. (Fuel containing MTBE over 15% in volume may cause reduced engine performance and produce vapor lock or hard starting.
MATERIALS ADDED TO FUEL
Indiscriminate use of fuel system cleaning agents should be avoided. Many of these materials intended for gum and varnish removal may contain highly active solvents or similar ingredients that can be harmful to gasket and diaphragm materials used in fuel system component parts.
Recommended Lubricants and Lubricant Capacities Table
RECOMMENDED LUBRICANTS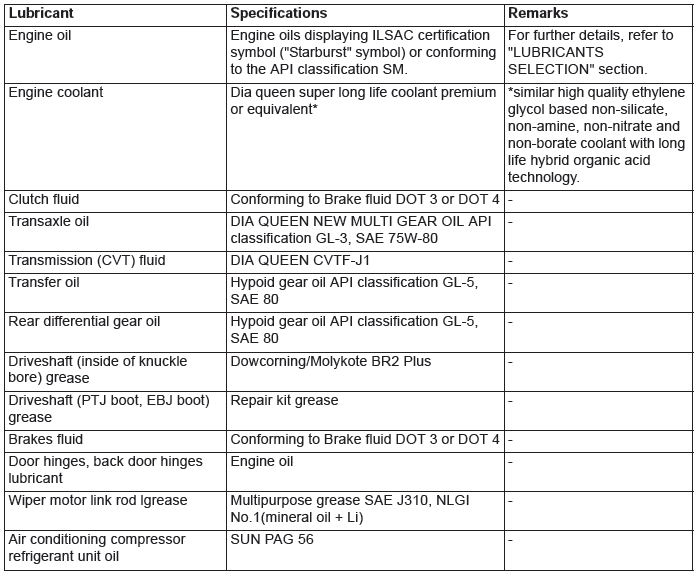 LUBRICANT CAPACITY TABLE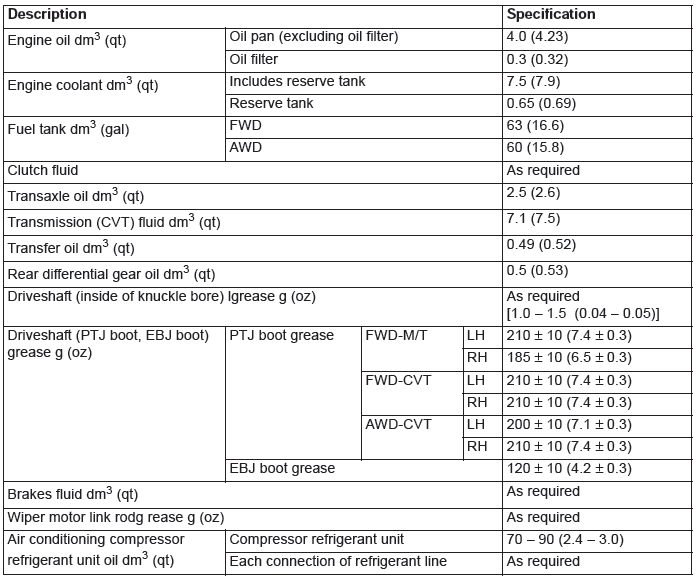 LUBRICANT SELECTION
ENGINE OIL
CAUTION Never use nondetergent or straight mineral oil.
Use only engine oils displaying the ILSAC certification symbol ("Starburst" symbol) on the container.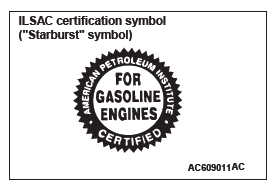 If these oils are not available, an API classification SM can be used.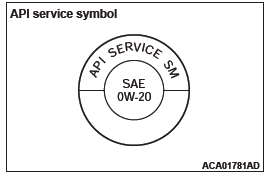 OIL VISCOSITY
The SAE grade number indicates the viscosity of the oil. A proper SAE grade number should be selected according to ambient temperature.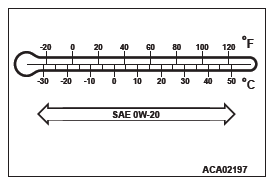 Scheduled Maintenance Table
SCHEDULED MAINTENANCE SERVICE FOR EMISSION CONTROL AND PROPER VEHICLE PERFORMANCE
Inspection and service should be performed any time if a malfunction is observed or suspected.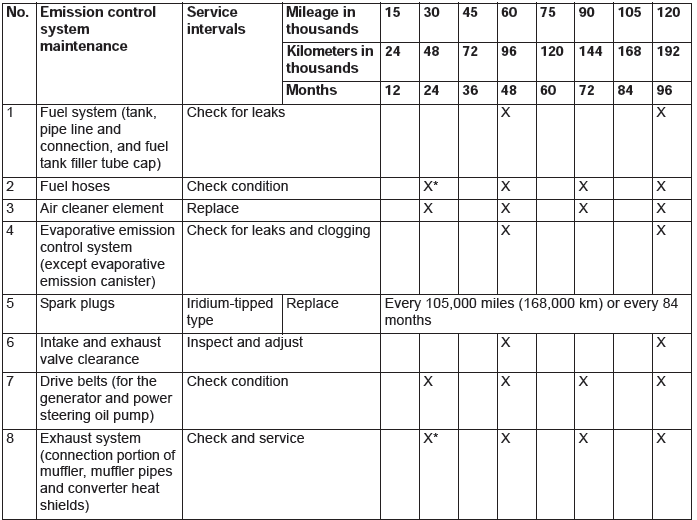 NOTE: *: This maintenance is recommended but is not required to maintain the emissions warranty.
GENERAL MAINTENANCE SERVICE FOR PROPER VEHICLE PERFORMANCE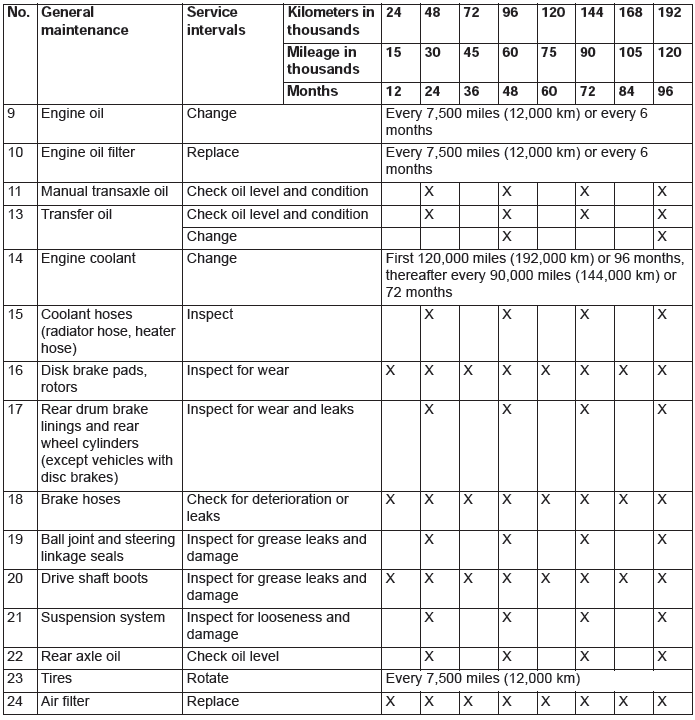 SCHEDULED MAINTENANCE UNDER SEVERE USAGE CONDITIONS
Maintenance should be carried out according to the following table: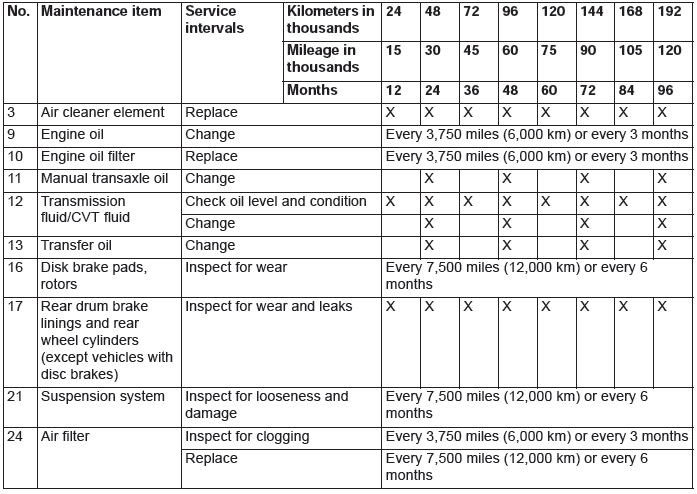 Severe usage conditions:
Driving on dusty, rough, muddy or salt-spread roads

Towing or police, taxi or commercial operation

Extensive idling and/or low speed operation

Repeated short-trip operation at freezing temperatures (engine not thoroughly warmed up)

Extended use of brakes while driving

Driving in sandy areas

More than 50% operation in heavy city traffic during hot weather above 32ºC (90ºF)
READ NEXT:
1. FUEL SYSTEM (TANK, PIPE LINE AND CONNECTION, AND FUEL TANK FILLER TUBE CAP) (CHECK FOR LEAKS) Check for damage or leakage in the fuel lines and connections. 2. FUEL HOSES (CHECK CONDITION) 1. Inspe
CONNECTOR CONTINUITY AND VOLTAGE TEST Required Special Tools: MB991219: Test Harness Set MD998459: Test Harness Follow the steps below to avoid causing poor connector contact and/or reduced waterp
HOW TO DIAGNOSE The most important point in troubleshooting is to determine "Probable Cause". Once the probable causes are determined, parts to be checked can be limited to those associated with such
SEE MORE:
TROUBLESHOOTING STRATEGY Use these steps to plan your diagnostic strategy. If you follow them carefully, you will be sure that you have exhausted most of the possible ways to find a front axle fault. 1. Gather information from the customer. 2. Verify that the condition described by the customer e
DTC P0746: Abnormality in Hydraulic Control System Function DIAGNOSTIC FUNCTION TCM determines that the malfunction is present when pulley ratio becomes higher (pulley ratio range: 2.349 to 0.394). DESCRIPTIONS OF MONITOR METHODS The status with the pulley ratio of 3.5 or more continues for 0.1 s