Mitsubishi Outlander: Trailer towing
In order to tow a trailer with your vehicle, have a trailer towing device that meets all relevant regulations in your area, mounted at an authorised MITSUBISHI dealer.
The regulations concerning the towing of a trailer may differ from country to country. You are advised to obey the regulations in each area.
CAUTION:
● Danger of Accident! A towing bar should be fitted by an authorised MITSUBISHI dealer.
Maximum towable weight with brake and maximum trailer-nose weight
Never exceed the maximum towable weight with brake and the maximum trailer-nose weight as listed in the specifications (refer to page 9-7).
If you tow a trailer at an altitude of more than 1,000 m (600 miles) above sea-level, reduce your weight by 10% of the gross combination weight for every increase of 1,000 m (600 miles) above sea-level, as the engine output is lowered owing to decrease in atmospheric pressure.
Towing bar mounting specifications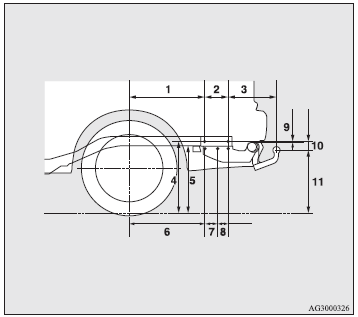 See the following table for fixing points (A) for the towing bar.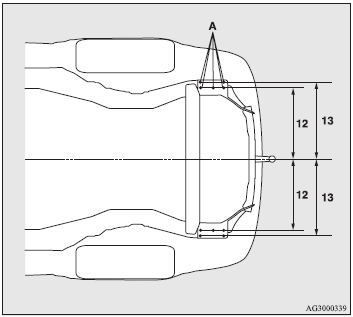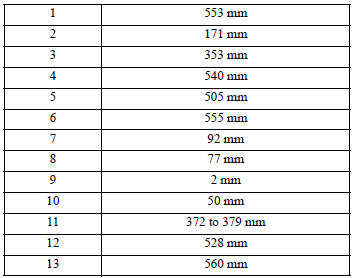 NOTE:
● The values under item 11 can be varied depending on the loading condition of cargo or luggage.
Operating hints
● To prevent the clutch from slipping, do not rev the engine more than is required when starting off.
● Be sure that the driving speed does not exceed the 100 km/h (62 mph) for trailer operation. It is also recommended that you obey the local regulations in case driving speed with a trailer is limited to less than 100 km/h (62 mph).
● To prevent shocks from the overrun brake, depress the brake pedal lightly at first and then more strongly.
● To make full use of engine braking, change to a lower gear before descending a slope.
READ NEXT:
1- Centre ventilators. 2- Side ventilators. Air flow and direction adjustments Centre ventilators Move the knob (A) to adjust the air flow direction. To close the ventilator, fully move the kno
The air conditioning can only be used while the engine is running. Control panel 1- Temperature control dial. 2- Air selection switch. 3- Blower speed selection dial. 4- Air conditioning switch
SEE MORE:
Inspection Procedure 1: Scan tool cannot communicate with WCM. CAUTION Before replacing the ECU, ensure that the communication circuit is normal. TECHNICAL DESCRIPTION (COMMENT) If the scan tool cannot communicate with the WCM, the CAN bus lines may be defective. If the WCM does not work, the WCM or
To check and refill engine oil The engine oil used has a significant effect on the engine's performance, service life and startability. Be sure to use oil of the recommended quality and appropriate viscosity. All engines consume a certain amount of oil during normal operation. Therefore,
© 2010-2023 Copyright www.mioutlander.com