Mitsubishi Outlander: Bottle holder
CAUTION:
● Do not drink beverages while driving. This is distracting and could cause an accident.
● Drinks could be spilled by the vibration and jolts while driving. If the spilt drink is very hot, you could be burnt.
NOTE:
● Tightly close the cap on drink bottles before storing them.
● Some bottles may be too big or the wrong shape to fit in the holder.
For the front seat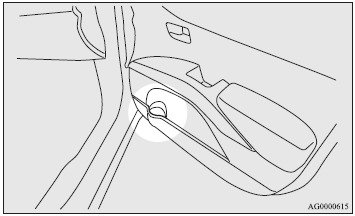 There are bottle holders located on both sides.
For the second seat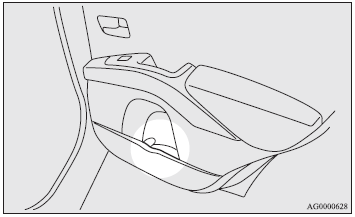 There are bottle holders located on both sides.
READ NEXT:
To use 1. Draw out the cover retracted by spring and insert it in the mounting grooves (A). 2. Remove the cover from the mounting grooves, and the cover will be rolled back into the retracted
There are 4 hooks located on the floor and side walls of the luggage area. Use the hooks on the floor for securing the luggage. CAUTION: ● Do not pile up the luggage beyond the seatback hei
SEE MORE:
The electric windows can only be operated with the ignition switch in the "ON" position. WARNING: ● Before operating the electric window control, make sure that nothing is capable of being trapped (head, hand, finger, etc.). ● Never leave the vehicle without removing the key.
General Information The 4B12 (2.4 L) engine is an in-line four-cylinder engine. The cylinder numbers are assigned as 1-2-3-4 from the front of the engine (timing belt side). The firing order is 1-3-4-2. Engine Diagnosis Service Specifications Sealants and Adhesive Special Tools
© 2010-2021 Copyright www.mioutlander.com