Mitsubishi Outlander: Luggage hooks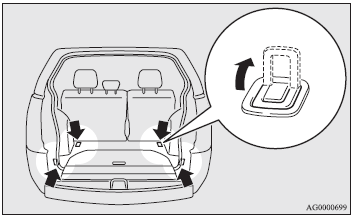 There are 4 hooks located on the floor and side walls of the luggage area.
Use the hooks on the floor for securing the luggage.
CAUTION:
● Do not pile up the luggage beyond the seatback height. Also, firmly secure the luggage.
Otherwise, serious accidents could result due to hindered rearward view or flying objects during sudden braking.
READ NEXT:
If the vehicle breaks down on the road, move it to the shoulder and use the hazard warning flashers. Refer to "Hazard warning flasher switch". If the engine stops/fails Vehicle operation and
If the engine cannot be started because the battery is weak or dead, the battery from another vehicle can be used with jumper cables to start the engine. WARNING: ● To start the engine using
SEE MORE:
DISASSEMBLY AND ASSEMBLY Disassembly Steps Final gear Differential side bearing (transmission case side) Differential side bearing (converter housing side) Differential sub-assembly Required special tools: MB990801: Real axle bearing puller MB990811: Side bearing puller cap MB990956: Ne
Adjust the driver's seat so that you are comfortable and that you can reach the pedals, steering wheel, switches etc. while retaining a clear field of vision. WARNING: ● Do not attempt to adjust the seat while driving. This can cause loss of vehicle control and result in an accident. A
© 2010-2023 Copyright www.mioutlander.com