Mitsubishi Outlander: Cargo loads
Cargo loads precautions
CAUTION:
● Do not load cargo or luggage higher than the top of the seatback. Be sure that your cargo or luggage cannot move once your vehicle is moving. Having the rear view blocked, and your cargo being thrown inside the cabin if you suddenly have to brake can cause a serious accident or injury.
● Load heavy cargo or luggage in the front of the vehicle.
If the load in the back of the vehicle is too heavy, steering may become unstable.
Loading a roof carrier
CAUTION:
● Use a roof carrier that properly fits your vehicle. Do not load luggage directly onto the roof.
For installation, refer to the instruction manual accompanying the roof carrier.
NOTE:
● We recommend you to use a genuine MITSUBISHI roof carrier, since the brackets to be used have a special shape.
For details, we recommend you to consult a MITSUBISHI MOTORS Authorised Service Point.
Roof carrier mounting brackets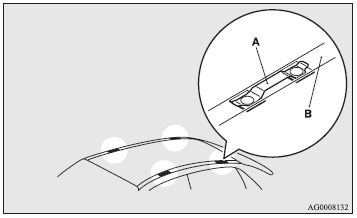 When installing the roof carrier, use the brackets (A). The brackets (A) are located under each roof drip moulding (B).
Roof carrier precaution
CAUTION:
● Make sure that the weight of the luggage does not exceed the allowable roof load.
If the allowable roof load is exceeded, this may cause damage to the vehicle.
The roof load is the total allowable load on the roof (the weight of the roof carrier plus the weight of luggage placed on the roof carrier).
For the specific value, refer to "Maximum roof load".
● When luggage is loaded onto the vehicle, please make sure to drive slowly and avoid excessive maneuvers such as sudden braking or quick turning.
In addition, place the luggage on the carrier so that its weight is distributed evenly with the heaviest items on the bottom. Do not load items that are wider than the roof carrier.
The additional weight on the roof could raise the vehicle's centre of gravity and affect vehicle handling characteristics.
As a result, driving errors or emergency maneuvers could lead to a loss of control and result in an accident.
● Before driving and after travelling a short distance, always check the load to make sure it is securely fastened to the roof carrier.
Check periodically during your travel that the load remains secure.
NOTE:
● To prevent wind noise or reduction in fuel economy, remove the roof carrier when not in use.
● Remove the roof carrier before using an automatic car wash.
● Be sure that adequate clearance is maintained for raising the sunroof (if so equipped) and/or the tailgate when installing a roof carrier.
READ NEXT:
In order to tow a trailer with your vehicle, have a trailer towing device that meets all relevant regulations in your area, mounted at an authorised MITSUBISHI dealer. The regulations concerning
1- Centre ventilators. 2- Side ventilators. Air flow and direction adjustments Centre ventilators Move the knob (A) to adjust the air flow direction. To close the ventilator, fully move the kno
SEE MORE:
Your vehicle has been designed primarily for use on pavement. But its unique 4-wheel drive system allows you to occasionally travel on unpaved roads, to campgrounds, picnic sites, and similar locations. Not only does this ensure better handling on dry, paved roads but also permits better tract
Code No.C161F: AWC actuator protection 1 CAUTION If there is any problem in the CAN bus lines, an incorrect diagnostic trouble code may be set. Prior to this diagnosis, diagnose the CAN bus lines. Whenever the ECU is replaced, ensure that the CAN bus lines are normal. OPERATION The AWC-ECU c
© 2010-2023 Copyright www.mioutlander.com