Mitsubishi Outlander: Rear Disc Brake Assembly
REMOVAL AND INSTALLATION <2.4L ENGINE: 5 PERSONS SEAT>
Pre-removal operation
Post-installation operation
Brake Fluid Refilling and Air Bleeding
Brake Disk Runout Inspection/Correction
Parking Brake Lining Seating Procedure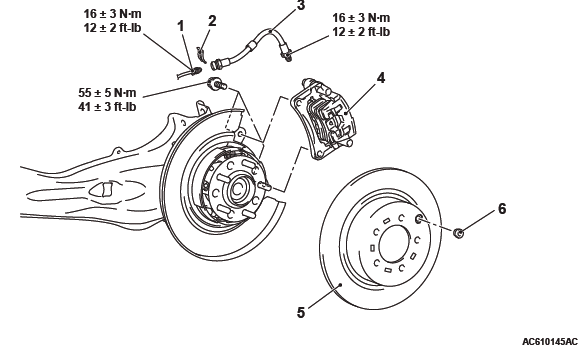 Removal steps
Brake tube (brake hose side) connection
Clip
Brake hose
Rear brake caliper assembly
Rear brake disk
Plug
REMOVAL AND INSTALLATION <2.4L ENGINE: 7 PERSONS SEAT, 3.0L ENGINE>
Pre-removal operation
Post-installation operation
Brake Fluid Refilling and Air Bleeding
Brake Disk Runout Inspection/Correction
Parking Brake Lining Seating Procedure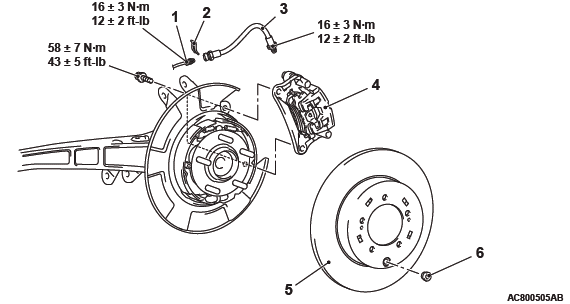 Removal steps
Brake tube (brake hose side) connection
Clip
Brake hose
Rear brake caliper assembly
Rear brake disk
Plug
INSPECTION
BRAKE DISC CHECK
DISASSEMBLY AND ASSEMBLY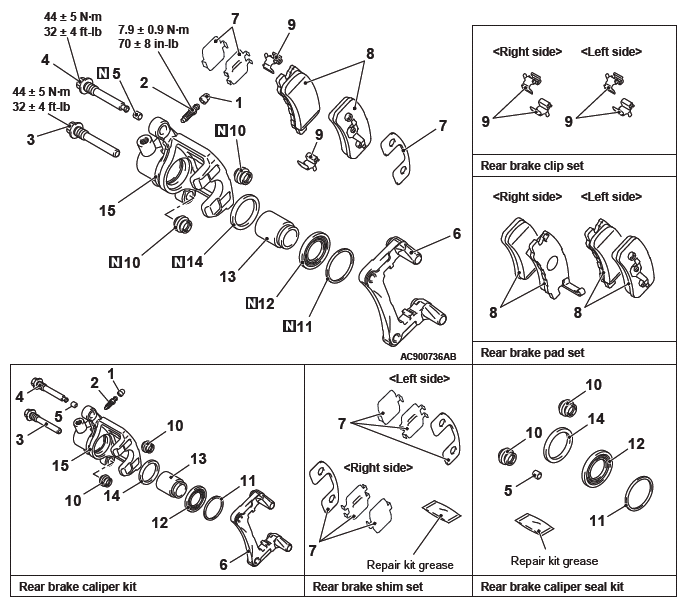 Disassembly steps
Bleeder cap
Bleeder
Guide pin
Lock pin
Bushing
Caliper support
Shim
Brake pad assembly
Clip
Pin boot
Boot ring
Piston boot
Piston
Piston seal
Caliper body
NOTE: Install the brake pad assembly (with wear indicator) to the inner side of the brake disk, making sure that the wear indicator is located on the bottom.
LUBRICATION POINTS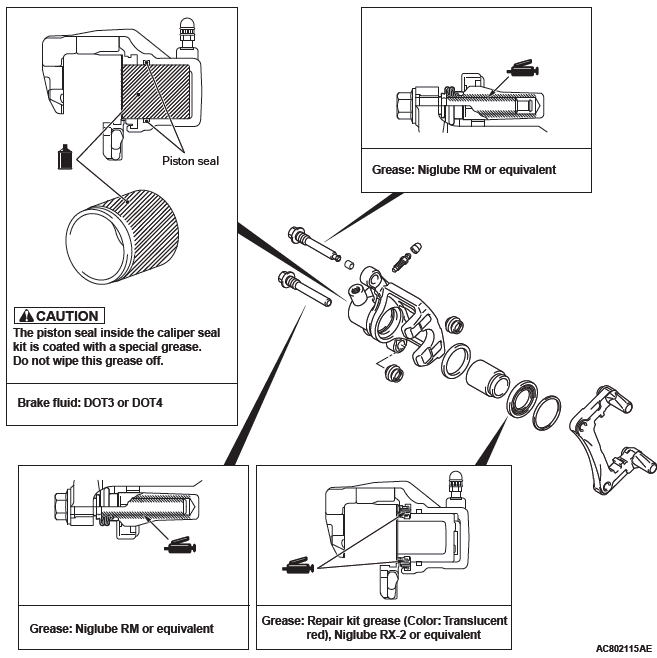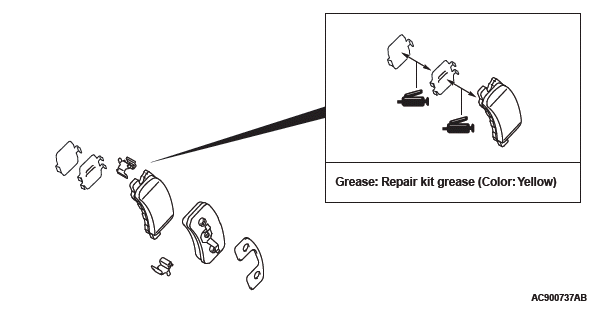 DISASSEMBLY SERVICE POINTS
PISTON BOOT/PISTON REMOVAL
CAUTION Blow air gradually to remove the pistons. The pistons will rush out if a force of air is applied suddenly.
Cover the caliper body outer side with a cloth or similar materials.
Blow compressed air through the brake hose installation area to remove the piston and piston boot.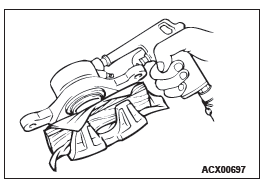 PISTON SEAL REMOVAL
CAUTION Do not use a flat-tipped screwdriver or similar tool to remove the piston seal. These may damage the inner side of the cylinder.
1. Remove the piston seal with your finger tip.
2. Clean the piston surface and cylinder inner face with alcohol or specified brake fluid.
Brake fluid: DOT3 or DOT4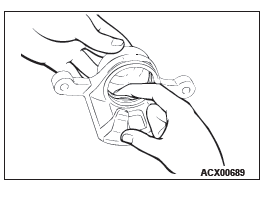 INSPECTION
Check the cylinder for wear, damage or rust.
Check the piston surface for wear, damage or rust.
Check the caliper body for wear.
Check the pad for damage or adhesion of grease, check the backing metal for damage.
BRAKE PAD WEAR CHECK
WARNING
Always replace both brake pads on each wheel as a set (both front wheels or both rear wheels). Failure to do so will result in uneven braking, which may cause unreliable brake operation.
If there is significant difference in the thickness of the pads on the left and right sides, check the moving parts.
Measure thickness at the thinnest, most worn area of the pad.
Replace the pad assembly if pad thickness is less than the limit value.
Standard value: 10.0 mm (0.39 inch)
Limit: 2.0 mm (0.08 inch)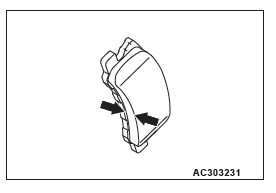 READ NEXT:
General Information The 4ABS ensures directional skid and control during hard braking. This ABS uses a 4-sensor system that controls all four wheels independently of each other. EBD *1control can o
ABS-ECU has the following functions for easier system checks. The following items can be diagnosed using scan tool. Diagnostic trouble code set Service data output Actuator test Freeze frame d
SEE MORE:
WCM REMOVAL AND INSTALLATION CAUTION When WCM has been replaced, all key ID codes should be registered, referring to the ID code registration judgment table. NOTE: Claw position is symmetrical Removal steps Ignition key cover Steering column upper cover Steering column lower cover WCM INSTA
DISASSEMBLY AND ASSEMBLY <Vehicles with S-AWC> Disassembly steps Dust seal guard Oil seal O-ring Dust seal Oil seal Cover Transfer <Vehicles without S-AWC> Disassembly steps Dust seal guard Oil seal O-ring Oil seal Oil seal Cover Transfer Required special tools: MD
© 2010-2023 Copyright www.mioutlander.com