Mitsubishi Outlander: Door Sash Tape
SPECIAL TOOL

REMOVAL AND INSTALLATION
Pre-removal and post-installation operation
Door Trim Assembly Removal and Installation
Door Beltline Weatherstrip Inner Removal and Installation
Door Opening Weatherstrip Outer Removal and Installation
Door Window Glass Runchannel Removal and Installation
Door Beltline Molding Removal and Installation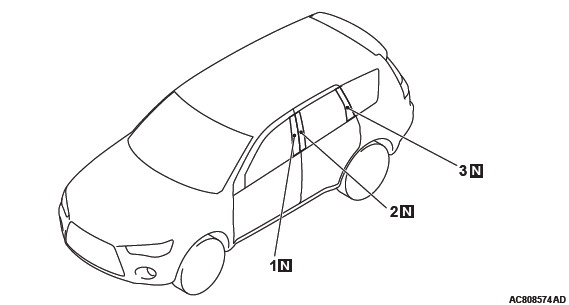 Removal steps
Front door sash tape, rear
Rear door sash tape, front
Rear door sash tape, rear
Required Special Tool:
MB990528: Stripe Tape Spatula
REMOVAL SERVICE POINT
DOOR SASH TAPES REMOVAL
CAUTION Pay attention to keep from getting burned by hot door panel or tapes.
1. Use a hair drier to warm the tape.
2. Peel the tip of the tape with your finger, and then peel off the tape in parallel with the application surface.
INSTALLATION SERVICE POINT
DOOR SASH TAPES INSTALLATION
CAUTION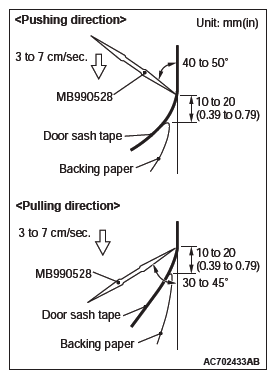 1. Wrap a soft cloth (synthetic fiber) around the tip of the special tool.
2. Use 3M AAD Part number 8906 or equivalent to clean the tape application surfaces.
3. Wipe away dirt from the tape.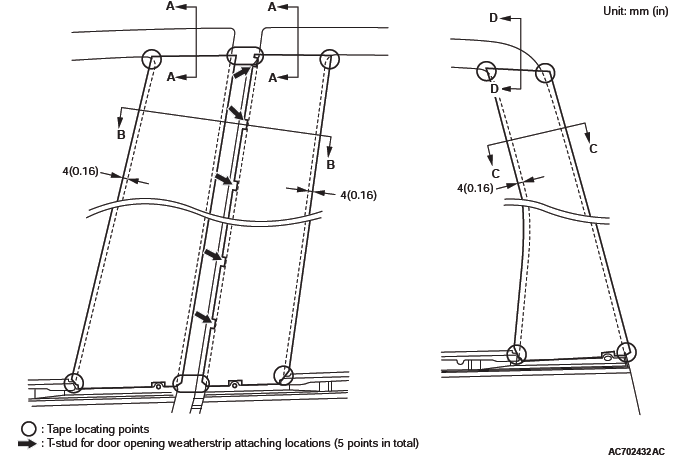 4. Apply the door sash tape according to the procedure below.
Position the tape at the upper and lower locating points.
Peel of backing strip from the top of the tape and attach it temporarily.
Peel off the backing strip to the half length of the tape.
Apply the tape using the special tool while peeling off the remaining backing strip.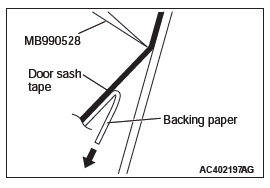 For the front rear door sash tape, apply it to plain surface (A). Then apply it to stepped surface (B).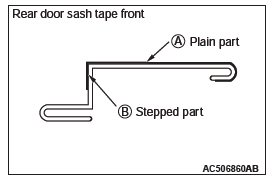 Press the folded area of the tape by three stages (60º, 120º and holding), rolling in toward the vehicle inside direction.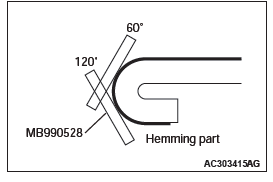 READ NEXT:
Side Air Dam REMOVAL AND INSTALLATION Removal Side air dam REMOVAL SERVICE POINT SIDE AIR DAM REMOVAL Gently lift and remove the side air dam. If there is any double- sided tape remaining on the s
WINDSHIELD WIPER AND WASHER OPERATION Intermittent control (Vehicle speed-dependent variable type) <Initial condition: with function> 1. ETACS calculates the windshield intermittent wiper inter
SEE MORE:
DRIVE BELT TENSION CHECK 1. Remove the radiator condenser tank mounting bolt, and move the radiator condenser tank to a place where it does not interfere with the drive belt tension check. CAUTION Check the drive belt tension after turning the crankshaft clockwise one turn or more. 2. Make sure tha
DTC C1035 Mutual monitoring of RR wheel speed sensor CAUTION If there is any problem in the CAN bus lines, an incorrect DTC may be set. Prior to this diagnosis, diagnose the CAN bus lines (Refer to GROUP 54C − CAN Bus Line Diagnostic Flow). Whenever ECU is replaced, ensure that the CAN b
© 2010-2023 Copyright www.mioutlander.com