Mitsubishi Outlander: Power Steering Oil Pump Assembly
REMOVAL AND INSTALLATION
Pre-removal operation
Power Steering Fluid Draining
Engine Upper Cover Removal
Engine Room Side Cover (RH) Removal
Generator and Others Belt Removal
Post-installation operation
Generator and Others Belt Installation
Generator and Others Belt Tension Check
Engine Upper Cover Installation
Engine Room Side Cover (RH) Installation
Power Steering Fluid Refilling and Bleeding
<2.4L Engine>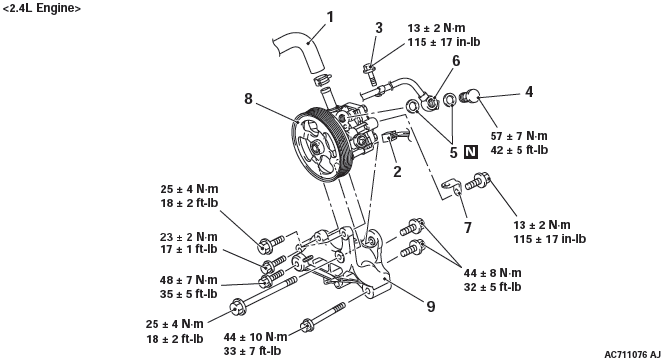 Removal steps
Suction hose connection
Pressure switch connector connection
Clamp bolt
Eye bolt
Gasket
Pressure hose assembly connection
Harness bracket
Oil pump assembly
Oil pump bracket
<3.0L Engine>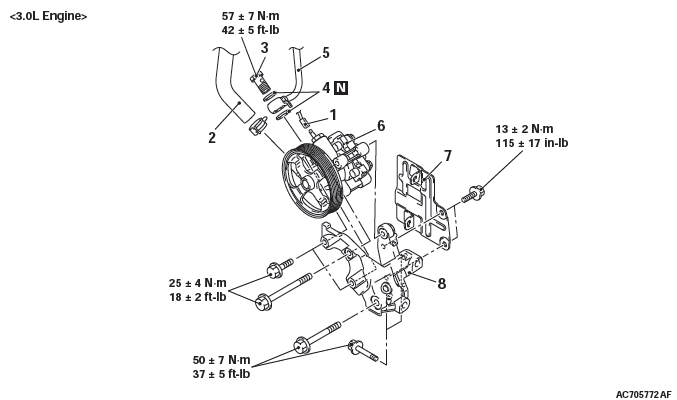 Removal steps
Pressure switch connector connection
Suction hose connection
Eye bolt
Gasket
Pressure hose assembly connection
Oil pump assembly
Heat protector
Power steering pump bracket
REMOVAL SERVICE POINT
OIL PUMP ASSEMBLY REMOVAL
When removing the oil pump assembly, remove the stabilizer link and stabilizer bar bracket, shift the stabilizer bar to the left of the vehicle, and then remove the assembly from the front wheel house (right side).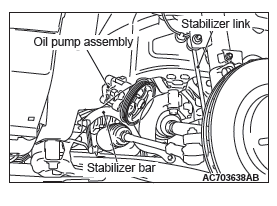 INSTALLATION SERVICE POINT
SUCTION HOSE CONNECTION
Align the suction hose marking within the area shown in the figure and connect the suction hose.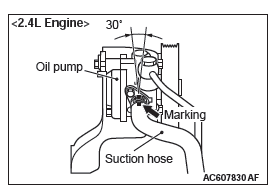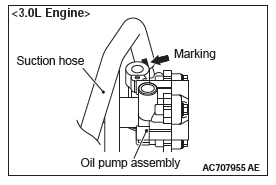 INSPECTION
Check the drive belt for cracks.
Check the pulley for uneven rotation.
DISASSEMBLY AND ASSEMBLY
CAUTION Do not use ATF-SP II M and ATF-SP III for the power steering fluid.
<2.4L Engine>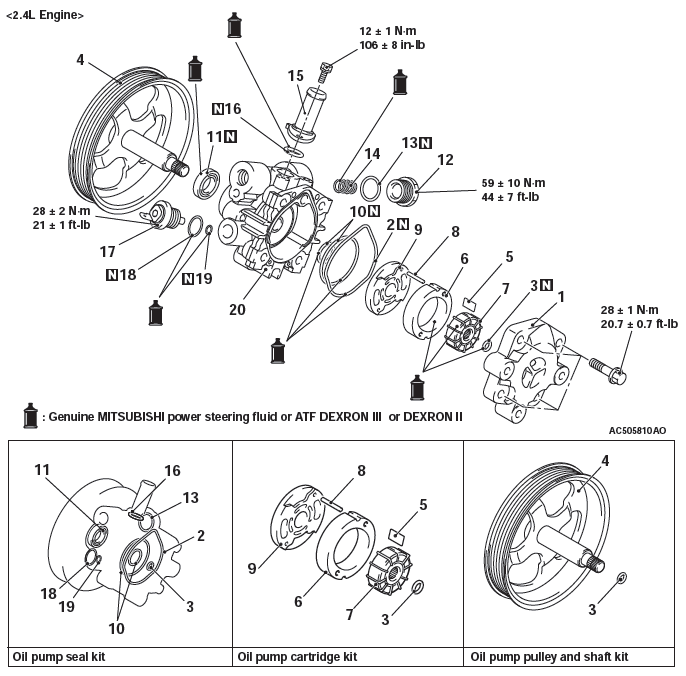 <3.0L Engine>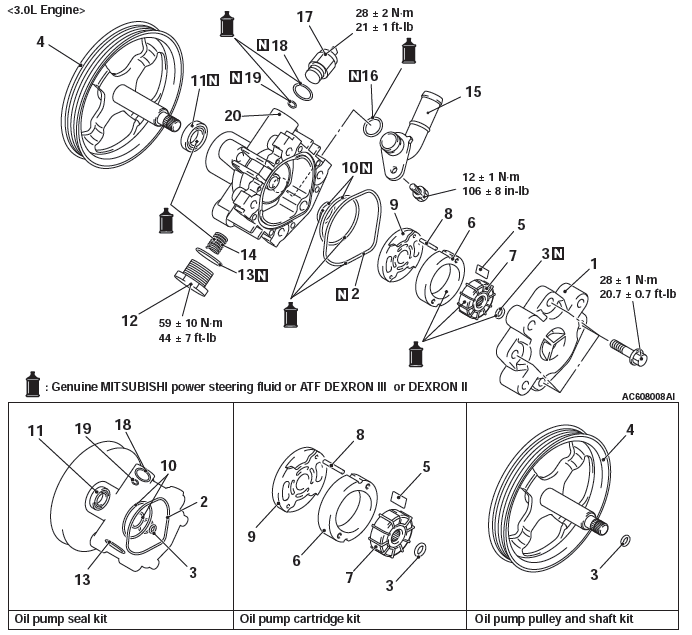 Disassembly steps
Pump cover
O-ring
Snap ring
Pulley and shaft
Vane
Cam ring
Rotor
Pin
Side plate
O-ring
Oil seal
Plug assembly
O-ring
Flow control spring
Suction connector
O-ring
Terminal assembly
O-ring
O-ring
Oil pump case
Required Special Tools:
MB990938: Bar (Snap-in type)
MB991203: Oil Seal and Bearing Installer
ASSEMBLY SERVICE POINTS
O-RING INSTALLATION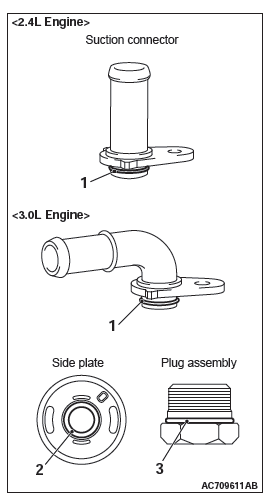 OIL SEAL INSTALLATION
Use the following special tools to install the oil seal.
Installer special tool bar (MB990938) [Including in the special tool bearing and oil seal installer set (MB990925) ]
Special tool oil seal and bearing installer (MB991203)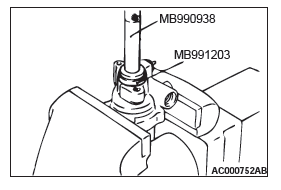 CAM RING INSTALLATION
CAUTION Be sure to install the cam ring in the correct direction as shown.
Install the cam ring as shown in the illustration.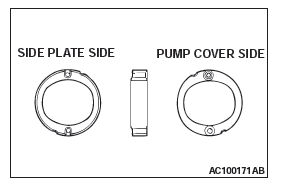 INSPECTION
Check the pulley and shaft for wear or damage.
Check the rotor and vane groove for "stepped" wear.
Check the contact surface of cam ring and vanes for "stepped" wear.
Check the vanes for damage.
READ NEXT:
REMOVAL AND INSTALLATION Pre-removal operation Power Steering Fluid Draining Engine room Under Cover Front (A,B,C), Engine room Side Cover, Engine room Under Cover Rear Removal Propeller Shaft A
General Information F1CJA, W1CJA model has been established. TRANSAXLE The transaxle consists of the torque converter and gear train. The three-element, one-stage, two-phase type torque converter wit
SEE MORE:
Type 1, Type 2 Two keys are provided. The keys fit all locks. Keep one in a safe place as a spare key. 1- Key for the electronic immobiliser. 2- Key number tag. 1- Key for the electronic immobiliser and keyless entry system. 2- Key number tag. Type 3 Two keyless operation key and two eme
The active stability control (ASC) takes overall control of the anti-lock brake system, traction control function and stability control function to help maintain the vehicle's control and traction. Please read this section in conjunction with the page on the anti-lock brake system, traction
© 2010-2023 Copyright www.mioutlander.com