Mitsubishi Outlander: General Information, Service Precautions
General Information
CAN, an abbreviation for Controller Area Network, is an ISO-certified international standard for a serial multiplex communication protocol*. A communication circuit employing the CAN protocol connects each electric control module (ECU), and sensor data can be shared among, which enables more reduction in wiring.
NOTE: *: The regulations have been decided in detail, from software matters such as the necessary transmission rate for communication, the system, data format, and communication timing control method to hardware matters such as the harness type and length and the resistance values.
CAN offers the following advantages.
Transmission rates are much faster than those in conventional communication (up to 1 Mbps), allowing much more data to be sent.
It is exceptionally immune to noise, and the data obtained from each error detection device is more reliable.
Each ECU connected via the CAN communicates independently, therefore if the ECU enters damaged mode, communications can be continued in some cases.
STRUCTURE
Special Tools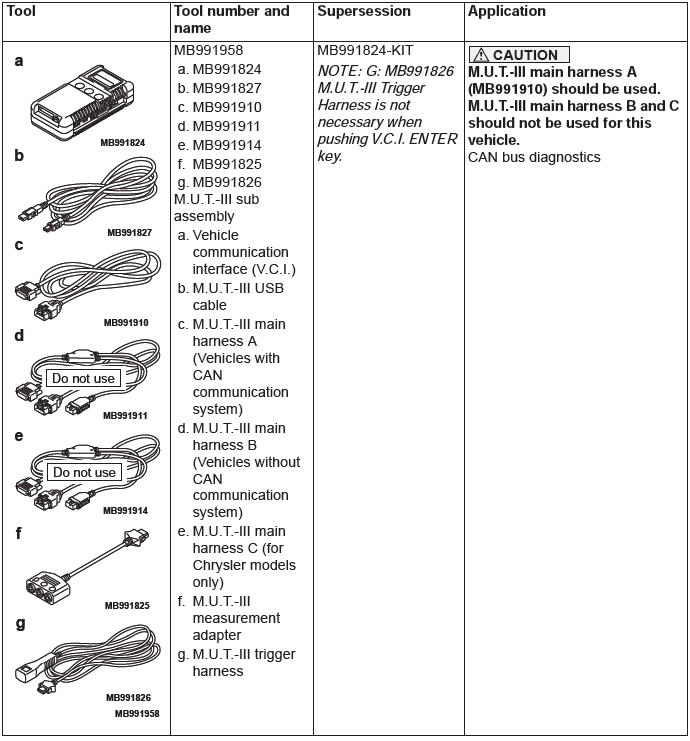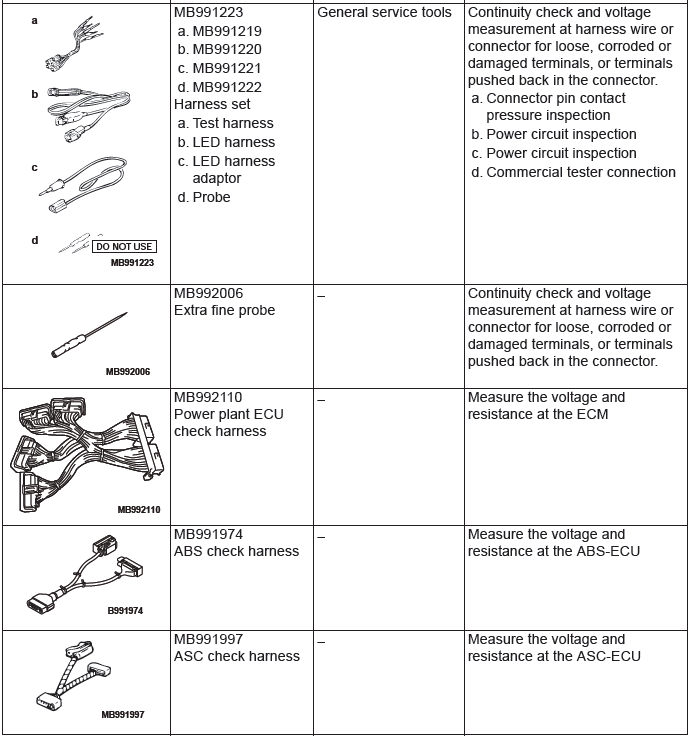 Test Equipment

Service Precautions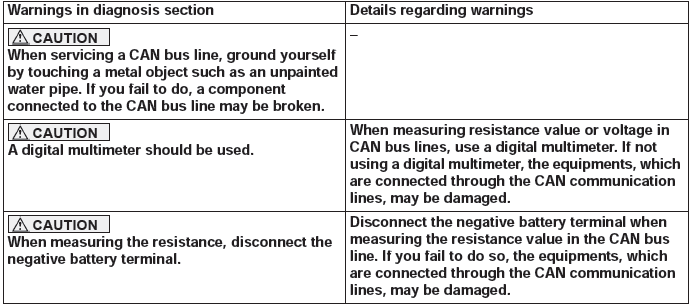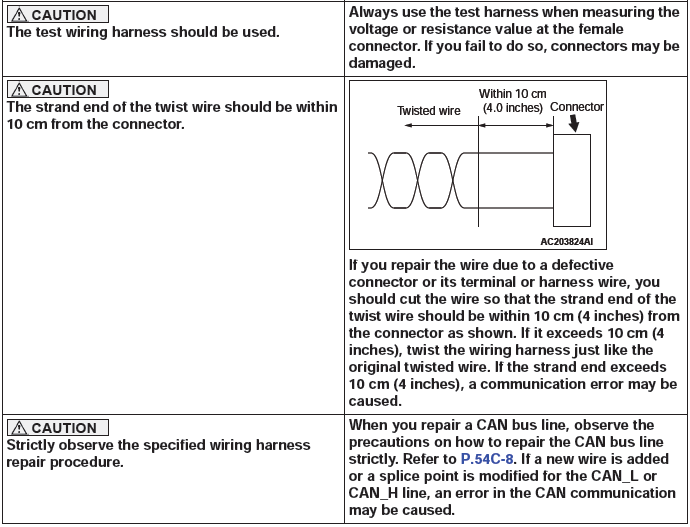 Precautions On How To Repair The Can Bus Lines
PRECAUTIONS ON HOW TO REPAIR THE CAN BUS LINES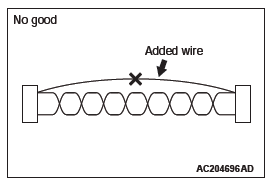 If the CAN bus line(s) are repaired, renew all the twisted wires between the end connectors. If the wiring harness is partially repaired, or only CAN_L or CAN_H line is repaired, noise suppression is deteriorated, causing a communication error.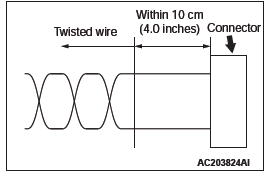 If the connector or wire on the main bus line or the sub-bus wire is replaced, the frayed end of the twisted wire should be within 10 cm (4 inches) from the connector. If it exceeds 10 cm (4 inches), twist the wiring harness just like the original twisted wire. If the frayed end exceeds 10 cm (4 inches), noise suppression is deteriorated, causing a communication error.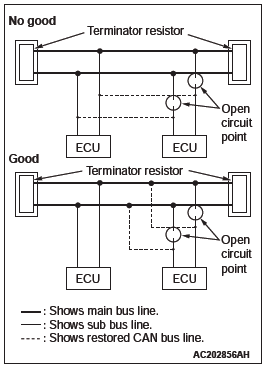 If a sub-bus line is repaired, splice a new wire directly into the main bus line. If a new wire is spliced into the sub-bus line, which is connected to another device, the CAN communication will be disabled.
PRECAUTIONS ON HOW TO REPAIR THE TERMINATOR RESISTOR
If one-side terminator resistor is broken, the CAN communication will continue although noise suppression is deteriorated. No diagnostic trouble code may be set even if the terminator resistor was broken. If a damage is found, replace the ECU which incorporates the defective terminator resistor.
CAN BUS LINE REPAIR HARNESS (PART NAME AND NUMBER)

EXPLANATION ABOUT THE SCAN TOOL (M.U.T.-III) CAN BUS DIAGNOSTICS
Scan tool MB991958 CAN bus diagnostics carries out the two checks below automatically, and then displays current condition of the CAN bus lines according to the check results.
CAN BUS LINE DIAGNOSTIC FLOW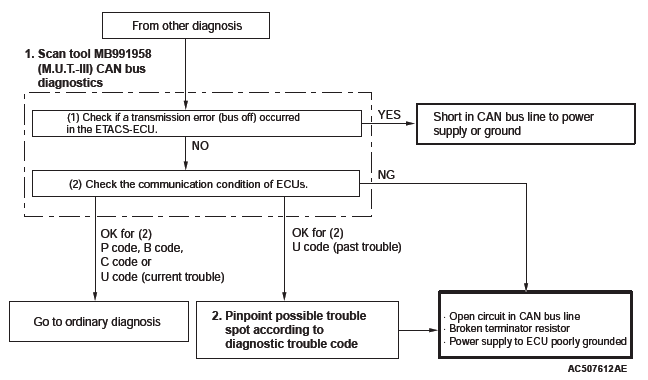 1. Scan tool CAN bus diagnostics
Scan tool MB991958 diagnoses CAN bus lines in accordance with the following strategy.
NOTE: After you determine whether the CAN-C lines are in good condition, then determine whether the CAN-B lines are in good condition.
Then confirm each judgment result on the scan tool screen.
Check that the ETACS-ECU sets a diagnostic trouble code.

You can narrow down the points to be diagnosed by confirming an ETACS-ECU diagnostic trouble code.

Checking the communication condition of ECUs.

Scan tool MB991958 narrows down troubles in circuit by itself. Its strategies are as follows.
Reference circuit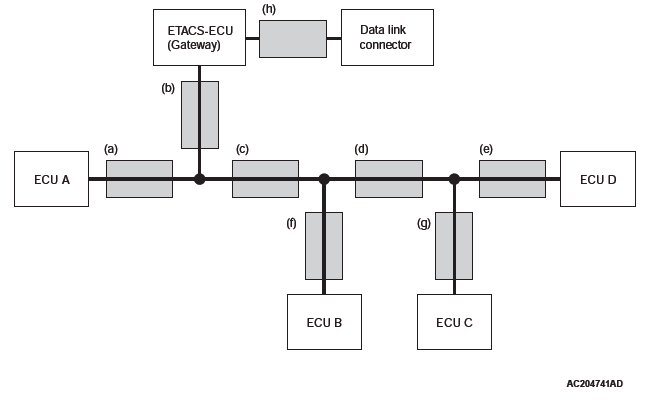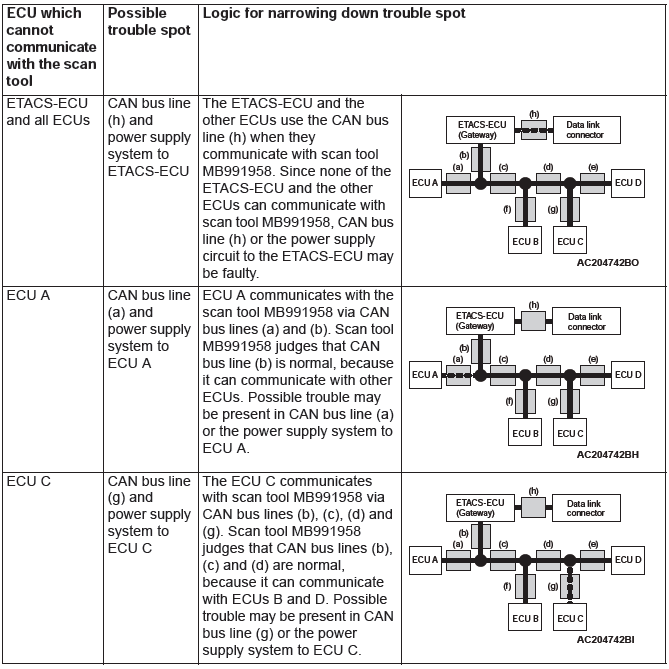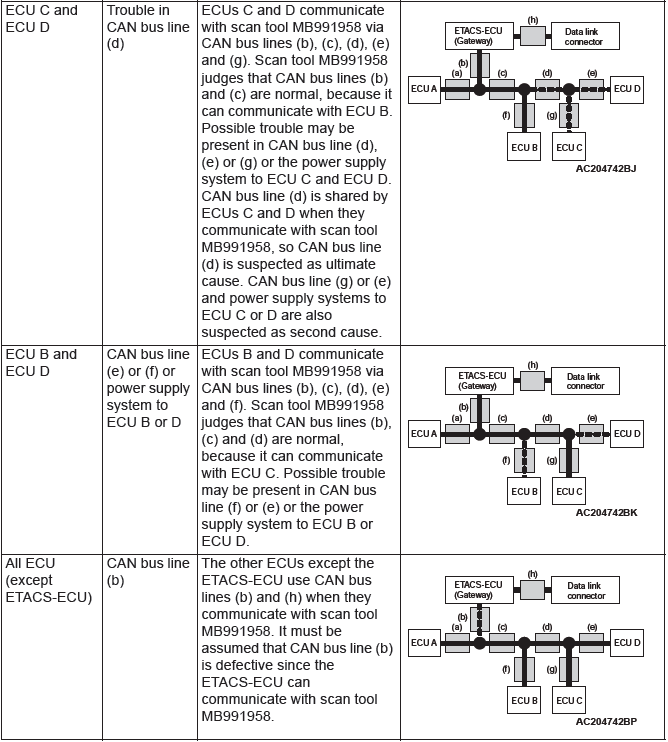 2. Pinpoint possible trouble spot according to diagnostic trouble code.
If diagnostic trouble code related to CAN communication is set as past trouble, isolate opens as described below.
NOTE: If you pinpoint trouble spot according to diagnostic trouble code, you should use time-out diagnostic trouble code. Diagnostic trouble code related to failure information is set when the data to be set contains an error, so CAN bus line itself is probably normal.
NOTE: Time-out diagnostic trouble codes are stored in each ECU memory individually. Therefore, it is possible that these diagnostic trouble codes have not been set simultaneously. If the trouble spot cannot be found when you diagnose by judging from multiple diagnostic trouble codes, check the communication lines between each ECU.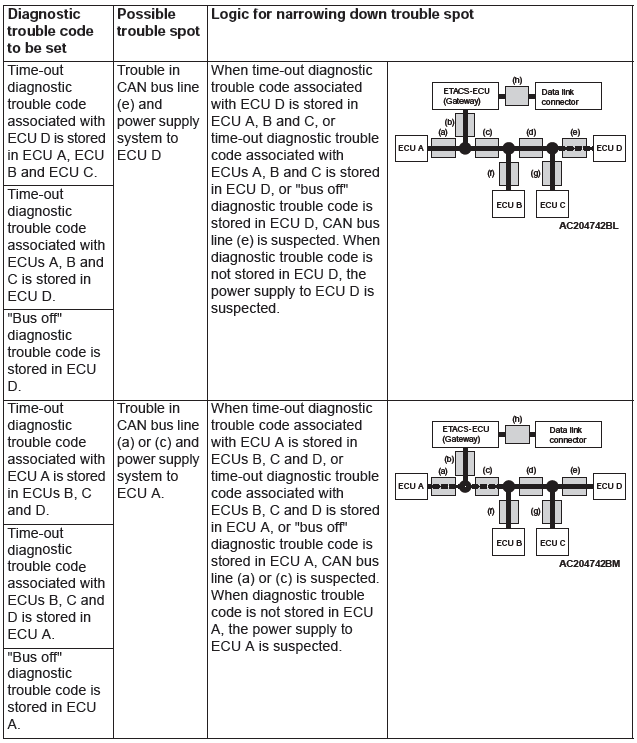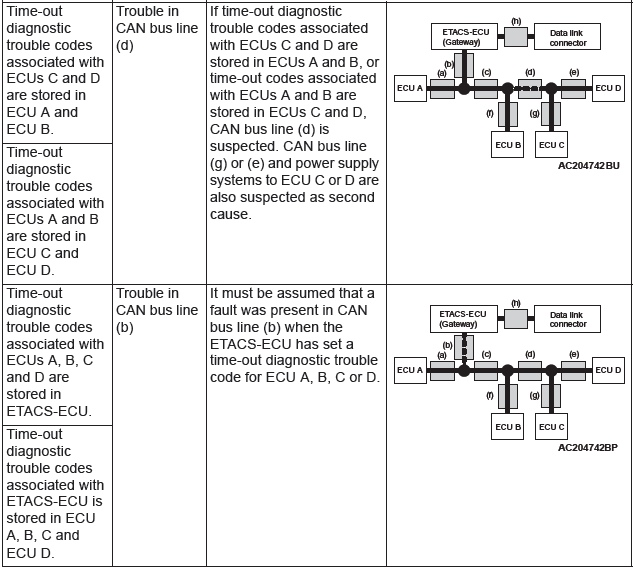 READ NEXT:
ON-BOARD DIAGNOSTICS The CAN is a communication method which the ECUs use in order to communicate each other. The CAN-related diagnostic trouble codes will be stored in the following ECUs, which use t
CAN BUS DIAGNOSTICS TABLE CAUTION A diagnostic trouble code may not also be set in the CAN-B lines under the conditions below. If no diagnostic trouble code has been set due to electrical noise, confi
DIAGNOSTIC ITEM 1: Diagnose when the scan tool cannot receive the data sent by ETACS-ECU CAUTION When servicing a CAN bus line, ground yourself by touching a metal object such as an unpainted water
SEE MORE:
The Dead Lock System helps to prevent theft. When the keyless entry system has been used to lock all of the doors and the tailgate, the Dead Lock System makes it impossible to unlock the doors using the inside lock knobs. CAUTION: ● Do not set the Dead Lock system when someone is inside
DIAGNOSTIC ITEM 26: Short to power supply or ground, open circuit or line-to-line short in the CAN-B bus lines. CAUTION When servicing a CAN bus line, ground yourself by touching a metal object such as an unpainted water pipe. If you fail to do so, a component connected to the CAN bus line may b
© 2010-2023 Copyright www.mioutlander.com