Mitsubishi Outlander: Specification(s), Front/Rear Bumper Assembly
Specification(s)
SERVICE SPECIVFICATIONS

ADHESIVES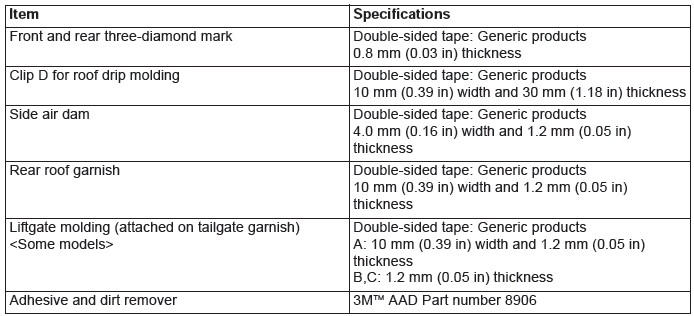 LUBRICANT

Front Bumper Assembly
REMOVAL AND INSTALLATION
Pre-removal and post-installation operation
Headlight support panel cover removal and installation
Engine room under cover front removal and installation
Splash shield removal and installation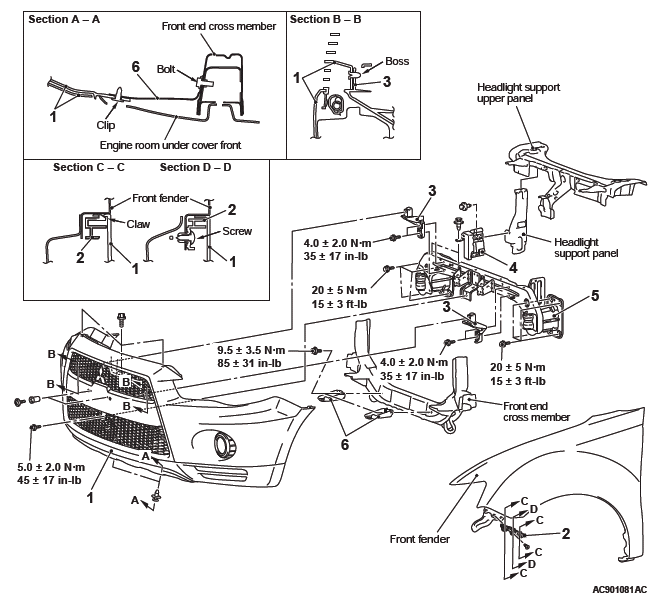 Removal steps
Fog light connector connection <Vehicles with fog light>
Front bumper assembly
Front bumper side bracket
Ambient temperature sensor
Headlight bracket
Front end panel guide
Front bumper reinforcement
Bumper lower bracket
DISASSEMBLY AND REASSEMBLY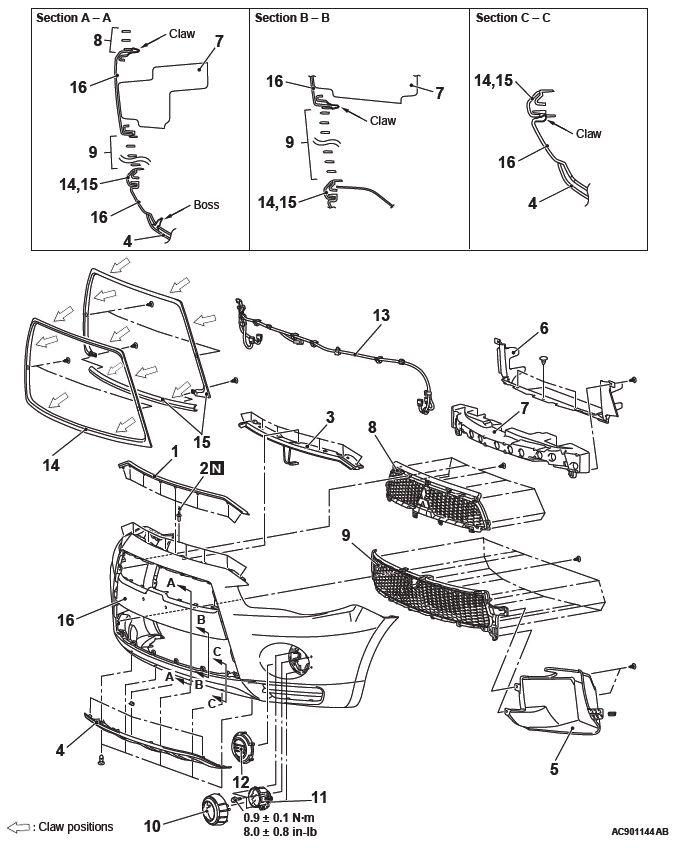 Disassembly steps
Hood weatherstrip front
Rivet
Front bumper reinforcement
Front bumper extension A <Some models>
Oil cooler duct <Vehicles with oil cooler>
Front bumper air guide duct
Front bumper core
Radiator grille
Front bumper grille
Front fog light bezel <Vehicles with front fog lights>
Front fog light <Vehicles with front fog light>
Front bumper light hole cover <Vehicles without front fog light>
Front bumper harness
Front bumper center garnish <Type 1: Material color>
Front bumper center garnish <Type 2: Chromium plating>
Front bumper face
DISASSEMBLY SERVICE POINT
RIVETS REMOVAL
Use a drill [(φ 4.0 mm(0.16 in) ] to make a hole in the rivet to break it, and remove the rivet.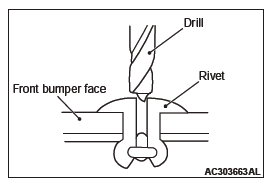 REASSEMBLY SERVICE POINT
RIVETS INSTALLATION
Use a rivet tool shown as in the illustration to connect the parts with rivets by the following procedures:
1. Insert the rivet into a corresponding location.
2. Set the rivet tool at a portion A of rivet.
3. While pushing the flange surface of the rivet onto parts to be fixed with the rivet tool, press the handle of the tool.
4. Thin part of portion A of the rivet will be cut off and the parts is fixed in position.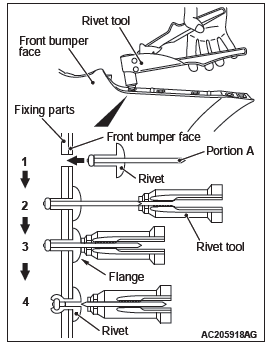 Rear Bumper Assembly
REMOVAL AND INSTALLATION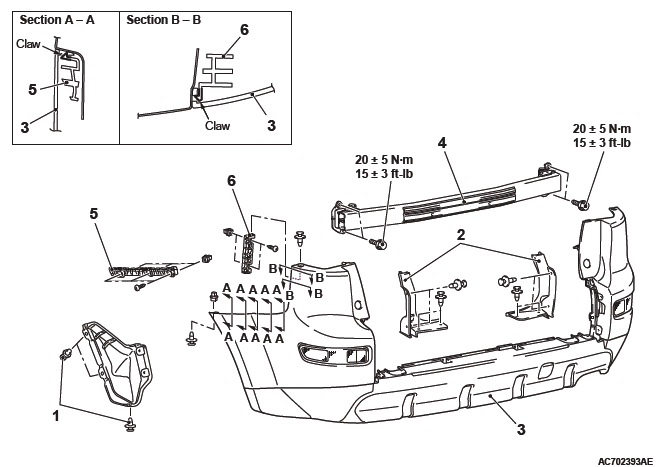 Removal steps
Rear combination light
Rear bumper harness connector connection
Splash shield mounting clips
Rear bumper cover
Rear bumper assembly
Rear bumper beam assembly
Rear bumper side bracket
Rear bumper face side bracket
DISASSEMBLY AND ASSEMBLY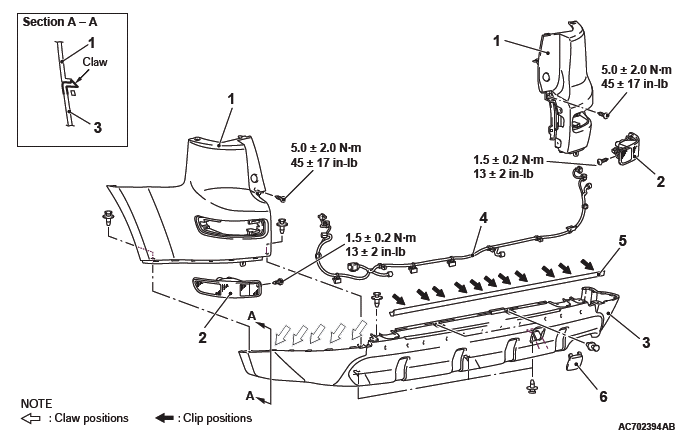 Disassembly steps
Rear side marker light connector connection
Rear corner bumper
Rear side marker light
Rear bumper face
Rear bumper harness
Rear bumper weatherstrip
Towing cover
READ NEXT:
Radiator Grille REMOVAL AND INSTALLATION Removal steps Headlight support panel cover Front bumper assembly Radiator grille Front-three diamond mark Headlight support upper panel cover Mol
SPECIAL TOOL REMOVAL AND INSTALLATION Pre-removal and post-installation operation Door Trim Assembly Removal and Installation Door Beltline Weatherstrip Inner Removal and Installation Door Openin
Side Air Dam REMOVAL AND INSTALLATION Removal Side air dam REMOVAL SERVICE POINT SIDE AIR DAM REMOVAL Gently lift and remove the side air dam. If there is any double- sided tape remaining on the s
SEE MORE:
REMOVAL AND INSTALLATION Pre-removal Operation Refrigerant Discharging Front bumper under cover Front under cover RH Drive belt removal <2.4L> Drive belt removal <3.0L> Post-installation Operation Drive belt installation <2.4L> Drive belt installation <3.0L> Drive
REMOVAL AND INSTALLATION <2.4L ENGINE> Pre-removal Operation Engine Coolant Draining Engine Upper Cover Removal Air Cleaner Assembly Removal Thermostat Removal Post-installation Operation Thermostat Installation Air Cleaner Assembly Installation Engine Upper Cover Installation En
© 2010-2023 Copyright www.mioutlander.com